Falklands' lawmaker begins round of contacts in Brazil's main cities
Friday, August 23rd 2013 - 23:18 UTC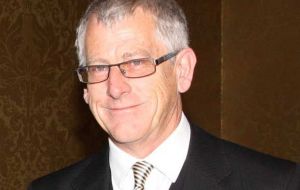 Falkland Islands lawmaker Dick Sawle is expected next week in Brazil where he will be meeting representatives from the business community, students' organizations and share lunch with a group of members of Congress, announced British ambassador in Brasilia Alex Ellis.
"We will be receiving the visit of a member from the Falklands Legislative Assembly, Dick Sawle, with the purpose of informing the day-to-day life in the Islands and so Brazilian public opinion can better understand the situation", said Ambassador Ellis.
MLS Dick Sawle is fluent in Spanish and has good command of Portuguese.
"Brazil is considered as a priority country by the Falklands government for diplomatic and economic relations with Latinamerica", added the British ambassador.
However no meeting is anticipated with members from the Brazilian government, which supports the Argentine sovereignty claim over the disputed Falklands/Malvinas.
MLA Sawle is scheduled to meet with the British Chamber of Commerce in Rio do Janeiro on Monday, with a special interest in the oil and support industries, since Rio is the leading hydrocarbons state in Brazil.
During his visit to Brasilia and Sao Paulo MLA Sawle will be meeting students, business people and in Rio Grande do Sul will attend the largest agro-business show of the country, Esteio, close to the capital Porto Alegre.
Falklands MLAs have been actively involved in an intense public diplomacy campaign in Latinamerican countries to give their side of the Islands sovereignty dispute with Argentina, and have been quite successful in achieving their goals with a strong echo in the media of different countries visited.
But Brazil was still missing and MLA Sawle will be doing the round of talks and PR in Latam's largest economy and with great influence over regional diplomacy. Brazil is rapidly becoming an oil and gas global player given its considerable offshore resources, and the Falklands are interested in their experience and know-how in managing off-shore operations, ahead of their own hydrocarbons development in the South Atlantic islands.
Last March the Falklands held a referendum, with international observers, in which 98% of voters, with a record 92% turnout, decided to remain a British Overseas Territory.