Falklands reviewing tax returns from oil industry but confident 'an acceptable outcome can be reached'
Friday, August 23rd 2013 - 23:22 UTC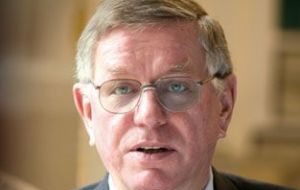 The Falkland Islands government is reviewing a tax return submitted by one of the oil companies currently operating off-shore the Islands and is confident a mutually acceptable outcome can be reached.

On Friday the Falklands government Treasury made public a brief communiqué in response to Thursday reports in the UK press regarding Rockhopper Exploration's Financial Information, in which it announced a full-year loss of 75 million dollars attributable to "a major tax bill from the Falklands government".

FIG Commissioner of Taxing Nicola Granger signed the release which reads that "in accordance with usual practice the Falkland Islands Government Tax Office is reviewing the tax return submitted by Rockhopper on 17th May. However, given the extraordinary circumstances surrounding Rockhopper's application to the High Court to cancel its share premium account, an initial tax assessment was raised by the Falkland Islands Government Tax Office on 11th June prior to agreement of the tax liability".

And concluding FIG "is working with an international specialist valuation advisor and is confident that a mutually acceptable outcome can be reached with Rockhopper.

On Thursday the UK media reported that shares in Rockhopper Exploration plummeted over 7% as it announced a full-year loss of 75 million dollars due to "a 122 million tax bill from the Falkland Islands government".

Rockhopper said it made a pre-tax profit of 47 million for the year ended 31 March, up from a loss of 53 million in the previous year, but 'capital gains tax on its Sea Lion farm-out wiped out this profit'.

Rockhopper is in ongoing discussion with the Falkland Islands government over the total amount of tax to be paid.

In October 2012, Rockhopper sold 60% of its stake in the Sea Lion development to Premier Oil for 231 million dollars in cash, a 722 million development carry and an exploration carry of 45 million.

Rockhopper retained 40% of the interest and chairman Pierre Jungels insisted that the development, located in the North Falkland basin, remained "central to our strategy".

He added that Rockhopper had 298 million of resources available at year end, which "puts the group into a very strong position to continue playing a lead role in the further exploration of the north Falkland basin".

The Sea Lion project has recoverable reserves of 337 million barrels of oil if a gas cap exists, increasing to 402 million barrels if there is no gas cap. Rockhopper said there was a 50% chance of a gas cap being in place.

Rockhopper expects front-end engineering and design to commence in early 2014, with an investment decision planned for the end of 2014.

"We have around 150 million barrels of fully funded oil, which in the present financial market conditions is a good place to be. In addition to our funded oil, we also have the cash to fund further exploration in the North Falklands Basin.

"Having completed the handover of our Falklands data and engineering work to the new operator we are pleased to say that there is now a baseline concept that meets all of the operator's internal economic metrics.

"Work continues apace to optimise the concept before front-end engineering and design can start, which we anticipate will be in early 2014. The final investment decision is now expected to be around the end of 2014.

"The strength of our balance sheet and the fact we lead the exploration for the joint venture means we will continue to play a key role in the ongoing exploration of the North Falklands Basin and to that end we are pursuing any opportunities for a stand-alone exploration campaign that may arise ahead of the development drilling".