Uruguay closer to ALBA than to the Pacific Alliance says foreign minister
Friday, August 23rd 2013 - 03:47 UTC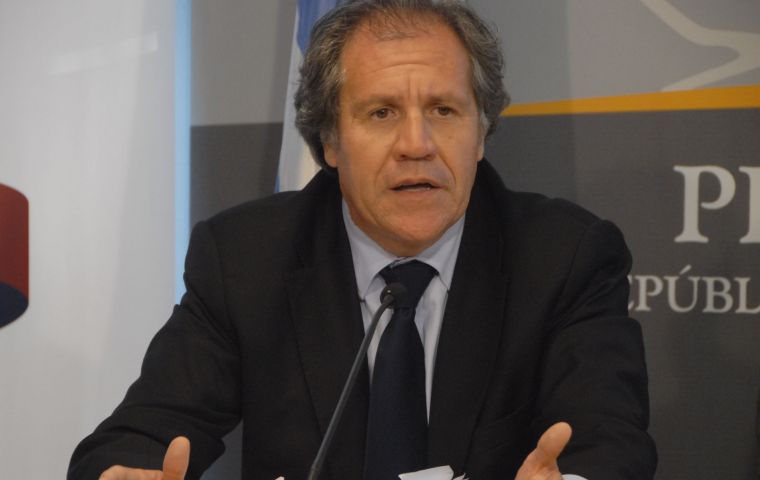 Uruguay is closer to joining the Bolivarian alliance for the Americas, (ALBA) than the Pacific Alliance said Uruguayan foreign minister Luis Almagro to a packed audience with government officials, local businesspeople and diplomats. He also argued that the 'tail wind' that has been so favourable for Latinamerica 'was over two years ago".
Almagro was invited to talk about 'the pillars of Uruguay's foreign policy' to a select audience among which were representatives from different commerce and manufacturing industries chambers that only last week presented the government with a detailed report of the growing difficulties confronted by the Uruguayan economy, particularly rising (labour) costs and loss of competitiveness because of the strong local currency.
"Uruguayan foreign policy is international insertion and this has two legs, the region and the world, and both must be doing fine, otherwise Uruguay begins to limp", said Almagro.
Then and contrary to what has been official policy sponsored by President Jose Mujica and Vice-president Danilo Astori, Almagro said that Uruguay was closer to joining ALBA (Venezuela's former president Hugo Chavez brain-child created to combat US influence in the region), that the Alliance of the Pacific, which includes Chile, Peru, Colombia, Mexico and Panama and Costa Rica in the process of incorporation.
Contrary to ALBA which preaches a strong government intervention in the economy through price controls, nationalizations and selective foreign investment (mainly government to government deals), the Alliance of the Pacific is fully committed to open markets, low tariffs, attracting foreign investment and promoting the private sector.
"We must keep getting closer to each of the integration projects in Latinamerica. We are observers of the Pacific Alliance, standing guests of ALBA, we have made proposals to deepen links and cooperation with each of these mechanisms which we understand is crucial for integration prospects", explained the Uruguayan foreign minister.
Then he added "maybe because of the mandate from the political force behind the government we are closer to ALBA that the Pacific Alliance, where we have a mandate of becoming partners during this government".
ALBA countries include Venezuela, Cuba, Bolivia, Ecuador, Nicaragua and several Caribbean islands which have are energy short and receive oil from Venezuela in very good long-term conditions (Haiti, Syria and Iran figure as observers).
Almagro then talked about the international scenario, which he said 'has ceased to be favourable" and that "uncertainty has reproduced in the region'.
This forces Uruguay to negotiate with its neighbours and consolidate what has been achieved, and although admitting trade difficulties with Brazil and Argentina, Mercosur continues to be the best option because of the sales volumes and the fact they buy goods with added value.
"Integration which absorbs most of the political time of the foreign ministry must be extremely realistic and built on concrete steps", said Almagro.
Likewise bilateral complementation agreements as the one recently agreed with Brazil must be sponsored, and Mercosur as a block should be on the same track of closer links with other groups, 'helping the region to signal foreign policy".
Referent Mercosur, Uruguay's head of the Exporters Union Teresa Aishemberg admitted Venezuela was a very good market because of its purchasing capacity and very good prices, but is also presents severe problems when it comes to paying.
"To this we must add the fact that Argentine obstacles to Uruguayan exports have seen sales to that market fall 14%, while in Brazil the strong devaluation of the currency has had an impact for our productivity", said Aishemberg.
When asked about Mercosur and Paraguay, which was suspended and although the sanction was lifted last 15 August is in no hurry to return to Mercosur and is flirting with the Pacific Alliance, Almagro said he hoped that the Paraguayan Senate would finally vote the incorporation of Venezuela.
"Mercosur, the region, Uruguay, and the Paraguayan people need Paraguay inside Mercosur" underlined Almagro.
As to Iran, Almagro said that Uruguay's position is that as long as Teheran collaborates with the Argentine justice investigation into the AMIA attack in Buenos Aires, "cutting dialogue with Iran would be a major political and strategic error".