Bolivian Senator arrives in Brazil after being granted political asylum
Monday, August 26th 2013 - 07:30 UTC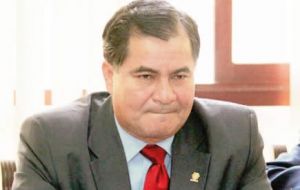 Bolivian Senator Roger Pinto, who had taken refuge in the Brazilian Embassy in La Paz, left the country in an official Brazilian vehicle escorted by soldiers, Brazilian Senate Foreign Relations Committee chairman Ricardo Ferraço said on Sunday.
Ferraço denied that - as La Paz claims - Pinto is a fugitive from Bolivian justice, although he stands accused of various crimes of corruption, for which he was sentenced last June to a year in prison.
"He was taken in by Brazil as a (person who was being) politically persecuted," Ferraço - of the Brazilian Democratic Movement Party, or PMDB, the most influential force in the government coalition of President Dilma Rousseff - told Globo.
Pinto had taken refuge in the Brazilian Embassy May 28, 2012, and 10 days later the Rousseff administration granted him the status of political asylum.
"He was persecuted in Bolivia for denouncing drug trafficking," Ferraço said, adding that the refusal of the Evo Morales administration to provide him safe conduct to travel to Brazil was like the "attitude ... of an arbitrary dictatorship".
Upon his arrival in Brasilia, Pinto made no political statement, but he thanked Brazil and its "authorities" for their "efforts" in allowing him to leave Bolivia.