Colombia and FARC resume peace negotiations; 13 soldiers killed by the guerrilla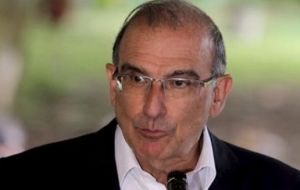 Colombia's government announced that peace talks with the country's largest guerrilla organization FARC were resuming despite the insurgents killed 13 soldiers Saturday in an ambush. The chief government negotiator said both sides would be back at the table on Monday morning in Havana where the negotiations are taking place.
The Revolutionary Armed Forces of Colombia, FARC, had announced a temporary freeze Friday over President Juan Manuel Santos' refusal to agree to a constitutional assembly and rewrite if a peace pact is struck.
That followed Santos' Thursday announcement that he was asking Congress to schedule a referendum for next year, to coincide with national elections on a peace agreement should it be attained.
A presidential vote is set for May and Santos has until November to declare whether he'll seek re-election. His hopes to have reached an agreement by then have been dashed by slow progress.
On just one item on the six-point agenda in the talks that opened in Havana in November has any sort of agreement been announced, (on agrarian reform), though details have not been released.
Chief government negotiators Humberto de la Calle told reporters on Saturday evening that the FARC had "decided to return to the table on Monday at 8:30 a.m. to continue the deliberations normally."
Earlier in the day, a FARC column killed 13 soldiers in Arauca, an oil-producing state on the Venezuelan border, the military said. Santos tweeted his condolences.
The talks are focused now on political rights for the rebels in a post-conflict nation, including the insurgents' insistence that none of them go to jail.
The FARC earlier this month demanded seats in Congress and its own news media. They also called for an end to the US-Colombia free trade agreement. But also for the first time FARC acknowledged shared responsibility for the country's suffering, and a willingness to make amends to the victims.
De la Calle referenced the gesture, which the FARC made last week. "It is a topic very important to us, and so all that into account we are returning to Havana" to continue the talks, he told reporters.
Each side has dealt the other dozens of combat losses since the talks began. Santos was unwilling to grant the FARC a cease-fire after years of wearing it down managing Colombia's US-backed military as defence minister.
Since winning election in 2010, the Colombian military has killed what were at the time several FARC top commanders. FARC is estimated to have 8.000 fighters, according to the defense ministry. A government commission last month estimated that 220.000 people have lost their lives in the near 50-year-old conflict. Other estimates run as high as 600,000 dead.