Cristina Fernandez calls for reciprocity from foreign airlines operating in Argentina's domestic market
Tuesday, August 27th 2013 - 21:59 UTC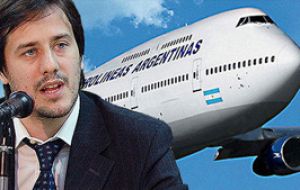 Argentine President Cristina Fernandez got involved in the Lan Chile hangar conflict at the Buenos Aires metropolitan air terminal by praising the performance of re-nationalized Aerolíneas Argentinas and claiming that while foreign carriers can exploit the Argentine domestic market, "there is no reciprocity from other countries".
A video from 2010 posted on the web also shows Aerolineas Argentinas CEO confessing he asked President Cristina Fernandez to eliminate Lan from the Buenos Aires metropolitan air terminal, although he would "deny it in public".

"We allow foreign airlines to make domestic flights in Argentina, but this is not reciprocated by other countries", said Cristina Fernandez to the media during a brief ceremony in neighbouring Uruguay.
Last week Argentina's airports regulator Orsma gave the Argentine affiliate of Lan Chile ten days to abandon the refurbished hangar from where it operates in Aeroparque Jorge Newbery, Buenos Aires metropolitan terminal, despite having a ten year contract.
Lan Argentina appealed the Orsma in court but also warned that if the measure becomes effective the airline will have to stop flying to fourteen destinations in Argentina and probably up to 2.000 jobs would have to be eliminated.
The Argentine affiliate of Latam (Lan Chile plus Brazil's TAM fusion), which has become Latinamerica's largest carrier and one of the most efficient and profitable airlines in the industry has had to face repeated obstacles and barriers set up by Argentine authorities.
Among the 'attacks' on Lan Argentina enumerated by corporate director Agustin Agraz includes banning the introduction of more aircraft; withdrawing routes such as Lima-Rosario and Lima-Iguazú routes; cutting the number of flights to Sao Paulo and Santiago de Chile; eliminating the boarding tubes and thus discriminating Lan passengers and not so long almost trebling the cost of servicing Lan in Aeroparque by a monopoly company.
But probably most threatening is a video in U Tube, in which the president of Aerolineas Argentinas, a young militant of Cristina Fernandez political group, Mariano Recalde confesses to have requested the president to bar Lan from Aeroparque to which she replied it was 'a too strong request, a very non diplomatic decision'.
Cristina Fernandez nevertheless agreed to give (money-losing) Aerolineas the monopoly of regional flights from Aeroparque, which even when the video dates from 2010, has gradually and effectively been taking place. Recalde in the video reaffirms that if ever asked about the elimination request "I would obviously deny it".
In the video Recalde also refers to Lan Argentina as "the representative of the extreme right in Chile, we are competing with the Pinochet right wing installed here in Argentina",
In Montevideo the Argentine president said that private airlines are only interested in profitable destinations, "but we have, and Aerolineas has the responsibility of giving connections to all Argentines". Cristina Fernandez added that "Aerolineas currently covers 80% of all domestic flights, which means it has recovered connectivity for Argentina, and this has a cost, its not all ´profit but benefit for the country".
Finally she recalled that when Aerolineas was privatized (to Spanish companies) the Argentine government ended paying the salaries and fuel of the Argentine flag carrier.
Aerolineas CEO Mariano Recalde is a young solicitor in his early thirties, the son of a member of Congress and labour expert who drafts most of the Cristina Fernandez government legislation on that area. And last but not least together with the son of Cristina Fernandez, Maximo Kirchner, Mariano was the founder of the youth group La Campora which is generously supported with posts and funds to promote 'Kirchnerism' and when needed acts as shock group.
These groups usually carry flags, banners and leaflets and sing and applaud the Argentine president in political rallies, including Congress opening sessions, and make sure no dissident voice or banner spoils the party.