Wide political support in Argentina for Cristina Fernandez new debt swap proposal
Wednesday, August 28th 2013 - 00:43 UTC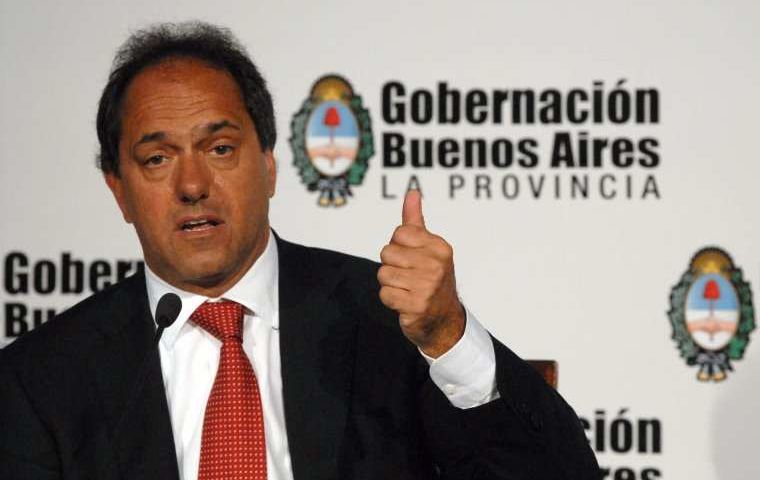 The opening of a new sovereign debt swap announced by Argentine President Cristina Fernández on national television on Monday has received strong support from allies, pledges of neutrality from the main opposition party but also criticisms.
The first to ratify the official move was Buenos Aires province, Argentina's largest electoral district (37% of national vote), head Daniel Scioli who said that "If the government does well, the country goes well."
"The government deserves to be supported because that is what supporting the country means," Scioli told reporters and ruled out "re-financing" debt options proposed by certain opposition sectors.
Following the poor results for Cristina Fernandez and her Victory Front during the recent primary vote, Governor Scioli has emerged as her most faithful ally and a towering figure calling for prudence and respect for the presidential office.
"President Cristina Kirchner is in charge of resolving pending problems inherited from other governments that took a path that took the country we all know where" said Scioli.
"Economic independence leads to political sovereignty" said the ex Vice-president during the former president Néstor Kirchner administration and added that Argentina is "one step ahead" as the current global crisis proves how "indebtedness has ravaged" countries like Greece.
Other provincial governors to come out in support of the latest initiative included Jorge Capitanich from Chaco; Misiones Mauricio Closs; Entre Rios, Sergio Uribarri; Chubut, Martin Buzzi and Jujuy Eduardo Fellner.
However Antonio Prat Gay head of the Civic coalition block in Argentina's Lower House announced his intention to vote against the plans to reopen debt swaps for external creditors. He added that the bill to be sent to Congress with the proposal is "recognition that the government is trapped in its own mistakes," and confirmed that he would not support a third debt swap.
"We agree with the idea of reopening, but not on less favourable terms than those that have already entered. A gift like that is unacceptable," he explained.
Prat Gay went on to assert that the ruling of the New York Appeals Court against Argentina in its battle with creditors who refused to accept bond swaps in 2005 and 2010 was no great surprise.
"It was predictable, which means that the measures that are being taken could have been implemented before this, I very much doubt that they will solve anything".
But a former central bank president Aldo Pignanelli criticised opponents of the third debt swap proposal pointing out that it was a subject that "transcended" politics and dismissing those against the plan as "traitors against the nation".
According to the economist, "this is an issue that transcends this government, since it affects all Argentines. I hear opposition figures saying it's too late, there is always a but. It seems there are Argentines who lack patriotism.
"I call [those who enter] a discussion of this type, weakening the Argentine position, national traitors. Not just political figures, I have heard more than one economist say all sorts of things about their own country," Pignanelli further stated.
"This is an issue of national sovereignty, a state issue. As Argentines we have to line up behind the government, who has the duty and responsibility of defending the nation's interests."
But the main opposition Radical party lawmakers advanced they would support the initiative, "we will do everything that is necessary in the national interest".
"This relates to the overall interests of the nation, which are beyond any government, and it is extremely serious if the country again is at risk of a major default", said lawmaker and Ricardo Gil Lavedra.
The head of the Radical party lawmakers in the Lower House said that under no circumstances "will we be an obstacle to grant the government all the instruments that are needed to address the situation". He added that as a law professor and former magistrate he 'did not share' US Judge Thomas Griesa ruling favouring the holdout hedge funds and demanding they be paid full capital and interest.
"I think it's madness because no country in the world can propose a debt discount restructure plan if the holdouts, as in this case which represent 7%, can later claim 100% of face value plus full interests", said Gil Lavedra. "This is very serious not only for Argentina but for all the international financial system"
Likewise the Conservative PRO block which responds to Buenos Aires City Mayor Mauricio Macri, anticipated support for the government's initiative pointing out that "the US Supreme Court must accept the case and review the ruling".
"We must be serious and responsible before the US Supreme Court and not act with partisan spirit. We will consider the government's proposal and will try to defend Argentine credit and people from another default. The fact that the government reiterated its commitment to honour the restructured sovereign debt is positive", said PRO lawmaker Federico Pinedo.
But orthodox economist Carlos Melconian was not so 'patriotic' and made a controversial statement arguing that "vulture (hedge) funds are goodwill people" and questioned Argentina's financial solidity to face debt commitments.
Melconian who also happens to be economic advisor to Buenos Aires Mayor Macri, went further and accused the Cristina Fernández administration of a "false" debt reduction process adding the government is "paving the way for a 2015 devaluation or for someone else to deal with" the aftermath of Argentina's legal dispute with NML Capital Ltd. and Aurelius Capital Management, which rejected 2005 and 2010 restructuring offers 93% of creditors did accept.
"I reject to have these funds called vulture. They are goodwill people who bought bonds in the market to save and in good faith", Melconian told reporters and went on to say Argentina has a "history of default".
"If a friend owes you money and does not pay you back he is untrustworthy", he insisted recalling that several Argentine governments have failed to abide by debt commitments.