Argentine judge blocks hangar eviction of Lan from Buenos Aires air terminal
Thursday, August 29th 2013 - 02:56 UTC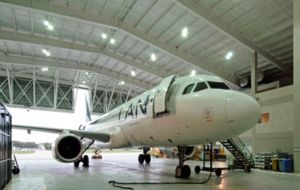 An Argentine judge on Wednesday granted an injunction blocking the eviction of LAN Argentina, a unit of Chile-based LATAM Airlines Group, from its hangar at Buenos Aires Jorge Newbery Airport, which handles domestic and regional flights.
The ruling instructs the Argentine government not to remove LAN Argentina, the main competitor of state-owned Aerolineas Argentinas, "until a determination is made of the legality of the order issued by the Orsna national airports system regulator."
Judge Claudia Rodriguez Vidal handed down her ruling hours before the deadline for LAN Argentina to vacate the hangar at Aeroparque Newbery was to due to expire. LAN Argentina has the hangar on contract until 2023 and recently invested five million dollars in refurbishing it.
LATAM Airlines, which was formed as a result of last year's merger of Chile's LAN Airlines and Brazil's TAM Airlines, went to court on Monday to seek the injunction.
Amid the dispute, LAN Airlines' president and chief operating officer, Ignacio Cueto, traveled Wednesday to Buenos Aires to meet with Orsna officials and try to reach an agreement, Chilean media reported. He is also scheduled to meet with Deputy Economy minister Axel Kicillof.
LAN Argentina employees have demonstrated against the eviction order since it was announced last week. The APTA and ATCPEA airline unions, meanwhile, said they would go on strike as of Thursday if the eviction is carried out.
LATAM Airlines Group, 9.2% of whose revenue comes from its Argentine unit, is the largest and most profitable airline in Latinamerica.
Meanwhile Aerolineas Argentinas CEO Mariano Recalde denied he has plans to step down following the release of a video, although dated 2010, in which he admits wanting to have Lan Argentina flights eliminated from Aeroparque.
"There's no attack or plan to remove Lan from Argentina" said Recalde who insisted "it never crossed my mind to resign and I'm going to do it".
CEO Recalde told a local Buenos Aires radio that the plan to eliminate some flights of Lan "was long buried; the video is from April 2010". He said that at the time it was no secret: "they are public statements which I ratify, but as I said are long buried".
Nevertheless Recalde said that Aerolineas has to connect with all of Argentina, many flights are non-profit, but since "we belong to the state we must comply with that and lose money". However other companies are only motivated by profit and have 'the cream of the market', which makes them to be described as 'efficient and organized'.
LAN Argentina described the eviction attempt as yet another attack against the industry, as part of a systematic ploy against the company and left open the possibility that foreign investors in the company could consider appealing to international tribunals.
From Santiago the Chilean media regarding 'reciprocity' recalled that between 2004/2007 and on request from then President Nestor Kirchner Aerolineas Argentinas operated in the Chilean domestic market under the name of Aerolineas del Sur. However the company finally had to leave because of mounting losses.
Likewise when Lan Argentina finally took off in 2005 it had to incorporate all the staff from several failed Argentine airlines. The company is 51% owned by Argentine investors and the remaining 49% belongs to Lan Chile.
Furthermore Chile ranks as Argentina's third market for exports behind Brazil and China and with which Argentina enjoys the largest surplus equivalent to a third of the overall surplus. The two countries also have several shared mining projects.