China calls for restraint in Syria and says military intervention can only worsen the crisis
Thursday, August 29th 2013 - 03:17 UTC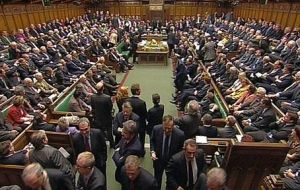 China's foreign minister urged restraint in the growing tensions over Syria, saying any military intervention in the crisis would only worsen turmoil in the Middle East. China all along has tried to maintain a neutral position on the issue, not accompanying the West's intentions of imposing sanctions to Syria but calling on Damascus to begin talking with the rebels.
President Barack Obama vowed that the Syrian government would face "international consequences" for last week's deadly chemical attack, but made clear any military response would be limited to avoid dragging the United States into another war in the Middle East.
Chinese Foreign Minister Wang Yi said military action would not help, but also repeated that China opposed anyone using chemical weapons.
"A political resolution has, from the very beginning, been the only way out for the Syrian issue," Wang said in a statement on the ministry's website.
There should be no rush to prejudge the findings of a UN team currently in Syria to investigate the claims chemical weapons were used. "China calls on all sides to exercise restraint and remain calm," Wang said.
The UK has put a suggested resolution to the five permanent members of the UN Security Council "authorising all necessary measures to protect civilians" in Syria. It calls for military action against what Britain has termed Syria's "unacceptable" use of chemical weapons.
But Russia has said the UN must finish its investigation into the claims before discussing any resolution.
Syria has accused the West of "inventing" excuses to launch a strike.
"Western countries, starting with the United States, are inventing fake scenarios and fictitious alibis to intervene militarily in Syria," Prime Minister Wael al-Halqi said on Syrian state television.
British Foreign Secretary William Hague told reporters the international community had a responsibility to take action against the Syrian government, even if agreement could not be reached at the UN.
The Syrian government has strongly denied that it used chemical weapons and blames opposition fighters for the attack on 21 August, which reportedly killed hundreds of people near Damascus.
A team of UN weapons inspectors is currently investigating the sites of the attack. UN General Secretary Ban Ki-moon said the experts were expected to finish their investigation in four days and would need more time after that to analyse their findings.
Mr Ban appealed for the team to be given "time to do its job".
And in a phone conversation with Mr Hague, Russian Foreign Minister Sergei Lavrov said a draft resolution should not be considered until the inspectors had reported.
On Thursday, British MPs are set to vote on a government motion condemning the attack, but the vote will not authorise direct UK involvement in military action. The motion says UN weapons inspectors should be allowed to report to the Security Council, after which a further vote on military action may be taken.
Britain's proposed UN resolution would condemn the "chemical weapons attack by [Syria's President] Assad", Prime Minister David Cameron added.
Mr Ban earlier called on the council's permanent members - China, Russia, France, the US and the UK - to act together. "The body interested with maintaining international peace and security cannot be 'missing in action'," Mr Ban said.
He added: "Give peace a chance. Give diplomacy a chance. Stop fighting and…start talking."