Argentina formalizes reciprocity request for Aerolineas in Chile and Brazil air markets
Friday, August 30th 2013 - 01:55 UTC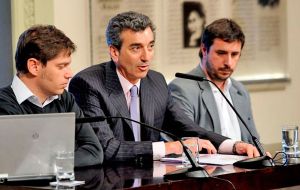 Argentine officials publicly stated on Thursday there was no intention of expelling any commercial airline from the country because Aerolineas Argentinas is working well, but called on Latam to help the Argentine flag carrier with reciprocity in Chile and Brazil.
"We have no intention to throw out any commercial airline", stated Interior and Transport minister Florencio Randazzo, while Economy Deputy Minister Axel Kicillof added that the government objective "is to defend our national airline".
Also present at the media conference was the head of the Argentine airports regulator Gustavo Lipovich who created the conflict with Lan, when he extended a ten-day eviction order for a hangar in Buenos Aires metropolitan airport, Jorge Newbery, from which the local affiliate of the Chilean corporation, Lan Argentina operates.
However Judge Claudia Rodríguez Vidal issued a preliminary injunction freezing the order to evict the Argentine unit of LAN, part of the LATAM group, from its hangar for which it has a contract until 2023.
Latam is Latinamerica's largest airline and was the result of the fusion of Lan Chine and Brazil's TAM. Thus Randazzo´s request was made extensive to Chile and Brazil.
"Regarding the situation of Lan and Aerolineas Argentinas, the national government has requested Latam to contribute with reciprocity, that is that Chile and Brazil authorize our flag carrier to make domestic flights in those countries", said Randazzo.
Between 2004 and 2008, when Aerolineas was under management from the Spanish Marsans Group, Aerolineas del Sur was created to make domestic flights in Chile, recalled Randazzo.
"The reciprocity criteria means that when a country demands something from another, it must acknowledge the same conditions in enjoys in that territory", pointed out the Argentine Transport minister.
"For the Argentine economy it wouldn't be at all negative to be able to have hangars in Brazil and Chile so that its flag carrier Aerolineas can operate domestic flights in those countries", said Kicillof
In addition Kicillof was asked on the meeting he held earlier with LAN's Vice President Enrique Cueto in order to obtain a solution for the dispute between both parts.
"It was a cordial meeting", revealed Kicillof, while saying that "we asked LAN to join us in the negotiation and authorize 'Aerolineas' to operate in Brazilian and Chilean airports".