Falklands' first oil delayed as cost alternatives are considered
Saturday, August 31st 2013 - 00:44 UTC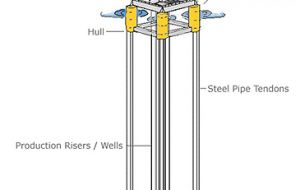 Premier Oil exploring for oil in the Falkland Islands said the company is studying cost alternatives to its drilling operations and crude extracting sub-sea architecture for the development of the Sea Lion project, which could delay the original chronogram for first oil.
During an update to the Falklands' community of its plans Premier said that initially it was working to use a Floating Production Storage and Offloading (FPSO) scheme which involves sub-sea architecture to produce oil.
Although an FPSO had been confirmed as viable, the cost of the FPSO and related equipment has increased, and as such, the company is studying a Tension Leg Platform (TLP) with an integrated drilling rig as an alternative.
The company said a final decision regarding which facility to use will be made by the end of 2013. This would be followed by the front-end engineering and design phase during 2014 before "sanction" at the end of 2014.
Actual development and construction ahead of first oil would then take a further three and a half to four years, explained Premier representative Ken Humphrey.
The company had also selected a phased development of Sea Lion using one rig in the first phase to develop the northern part of the Sea Lion field which is estimated to contain 284 million barrels.
This gives the project a more, "measured, flexible approach," he told the meeting and one that has gained Falkland Islands Government approval.
The new concept will mean less impact on local infrastructure, giving FIG more time to plan "for capacity pressures during peak development activity", confirmed Director of Mineral Resources Stephen Luxton last week, who added: "Premier continues to advance the Sea Lion development concept with a target for project sanction and gaining FIG approval towards the end of 2014. The proposed phased development concept has been discussed extensively with FIG and its advisers".
"We are confident that it appears to be the optimum solution to deliver a successful project. Maximum economic recovery of offshore resources remains FIG's guiding policy."
As part of this phased approach Premier is in talks with another Falklands oil explorer Noble Energy regarding the possibility of sharing a drilling rig to use in further exploration work in late2014/15.
A three well program is planned including an exploration well to test the Zebedee prospect, south of Sea Lion, and an appraisal well to confirm the presence of gas cap with an exploration tail to test for deeper potential. A third well location is under discussion.
The Zebedee prospect would be difficult to develop on its own said Mr Humphrey and the plan would be to include it, if successful, in the second phase of Sea Lion development.
Depending on the depths to which Zebedee is drilled it has a gross prospective oil resource of 28 to 46 to 150 million barrels of oil equivalent (MMBOE) at a shallower level, or alternatively higher risk gross prospective resource of 28 to 165 to 400 MMBOE if drilling is deeper. Sea Lion now has an increase devaluation of anticipated oil recovery of around 394 million barrels from the first and second phases of development. A higher than previously expect flow rate is also anticipated. (PN).-