Falklands' lawmaker has full round of political and business contacts in Uruguay
Thursday, September 5th 2013 - 03:35 UTC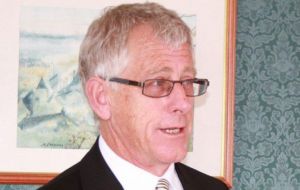 "We have come for people-to-people contacts, to talk about business opportunities and for the resumption of the close and historic links between the Falkland Islands and Uruguay", repeated Falklands' lawmaker Dick Sawle during one of his many presentations in Montevideo.
One of eight members of the Falklands' elected Legislative Assembly Sawle and Deputy CEO of the Islands' government Simon Fletcher are on their second week of a South American 'diplomacy' round which started in Brazil visiting several major cities and now continues in Uruguay.
"We know that there are some issues on which we can't agree, so let's leave them aside, but there are many more on which we can advance, taking advantage of the business opportunities which the development of the oil industry in the Falklands can offer. That is why we have come to Uruguay, hoping to interest potential businesses to trade in goods and services, and even have Uruguayan companies in association with local partners actively participate in the logistics of the hydrocarbons industry", added MLA Sawle.
The visit so far has included a round of talks in Uruguay's parliament with members from all political parties, (government and opposition); contacts with business people; ample coverage in the media (with reference to 'Falklands'); a speech at the Uruguay-British Chamber of Commerce and meetings with advanced students and academia. MLA Sawle's inter action was made more fluent because of his background as teacher of Spanish language.
The political contacts included Senator and former president Luis Alberto Lacalle (1990/1995) from the main opposition National party and the current president of the Lower House, Deputy German Cardoso from the junior opposition Colorado party.
Likewise there were interviews with Jose Carlos Mahia, chairman of the Foreign Affairs committee of the Lower House from the ruling coalition, who also happens to be a history teacher and is well informed of South Atlantic affairs. Another contact was Jorge Pozzi, from the ruling coalition but with fishing industry backgrounds and well aware of the significance of the Falklands fisheries for the port of Montevideo.
Interviews at political level were made fluid and opened doors thanks to lawmaker Jaime Trobo, who visited the Falklands for the March 10/11 referendum and came back impressed by what he saw and has since become a strong advocate of the Falklands' people having spoken in Parliament on the need to have normal, strong relations, based on historic links and the business opportunities for both sides. Not only the promising hydrocarbons development in the Islands but the long established port and fishing industry support that Montevideo has offered fleets operating in the South Atlantic.
"We are much interested in improving and strengthening links with the region and Uruguay has a special place for the Falklands. Our contacts go back to the 1840s. We hope that we can re-establish those close historic contacts that once also covered education, healthcare, family and above all the warmth and understanding of our position with all the people we have met", indicated MLA Sawle.
He revealed that a delegation from the Falkland Islands Chamber of Commerce is scheduled to visit Montevideo next October precisely to continue with contacts and interest Uruguayan companies in business opportunities in the Islands.
"I'm a representative of the Falklands and as such I'm not involved in the private sector possible links or contacts, I've come to inform of such opportunities and now it's the job of business people to take action, for Uruguayan companies if interested to begin moving", said MLA Sawle.
Trobo said that Uruguay's position on the Falklands' dispute is well known (in support of Argentina's sovereignty claim), but the issue was not discussed during the meetings with Uruguayan legislators.
"We understand and respect Uruguay's position, and we know it won't change. Uruguay has been very clear on that, but leaving aside this there are so many more opportunities on issues on which we can explore and agree", said MLA Sawle.