Mujica confirms: no intention of irritating Argentina on pulp mills' controversy
Friday, September 6th 2013 - 02:00 UTC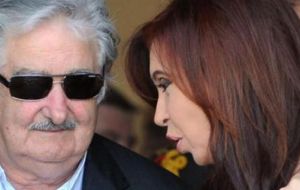 Uruguay' President Jose Mujica said the decision authorizing a possible expansion, or not, of the UPM/Botnia pulp mill is closely linked to Argentina and the construction of a third plant along an inside Uruguayan river and not a shared one as is the case now.
Mujica criticized those who are demanding he challenges Argentina and in an interview with a government funded weekly "Voces" said "We are well aware of what we are. They are asking me to challenge Argentina. I know Uruguay's history, the best way to make trouble and with no exit is trying to pick a fight with Argentina".
"We know very well that if you try to push Argentina, you're done; and worse you won't even get a thing of what you were planning for", he emphasized.
The managers of UPM/Botnia are putting 'pressure' because the mill can effectively, as it is planned produce another 20 to 25%, but the agreements we have with Argentina "impede us from increasing production".
Mujica said that was 'crucial' for Uruguay but 'reality' also shows 'we must act with extreme prudence'. He then added 'the truth is that UPM/Botnia might construct another mill up the River Negro, close to Brazil and if that is so we have the perfect production ring completed: instead of exporting tree trunks and chips, we can begin sending pulp, which is more expensive and needs more added value".
Besides "round the corner is the coming summer season and our best and most faithful clients are the Argentines, so let's cool down the discussion" said the Uruguayan leader.
On Wednesday Mujica asked by the media confessed he had a decision taken regarding the UPM/Botnia plant expansion plan, but would keep it to himself for the moment, although insinuating that "we have to respect agreements".
UPM/Botnia has plans to increase production from 1 million tons per year to 1.3 million tons, but Argentina has already asked questions about those plans and if they concord with the existing agreements following the ruling of the International Court of The Hague.
On Thursday late evening President Mujica met with Argentine ambassador Miguel Dante Dovena in a bar close to Government House and shared pizza and talked for over an hour. At the end Mujica only said he was enjoying a chat with a 'good friend', and the Argentine ambassador was also evasive denying they had not addressed the pulp mills controversy.