"If Brazil devalues, Uruguay will follow", President Mujica tells farmers
Wednesday, September 11th 2013 - 22:02 UTC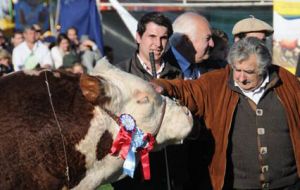 President Jose Mujica said that Uruguay is 'aligned' with Brazil in economic policy, and if the government of President Dilma Rousseff decides to devalue its currency, "Uruguay will follow" and as Brazil, "Uruguay is not satisfied with the functioning of Mercosur".
Mujica made the statements on Tuesday during a lunch meeting with the Uruguayan Rural Association board in the framework of Uruguay's main agro-industry show in the greens of Prado.
"The meeting took place in a distended atmosphere, the President presented his points of view and we did the same regarding the US dollar, exports, Brazil, Mercosur and foreign trade", said ARU president Ruben Echeverría.
Another issue on the table was transport costs in Uruguay compared to other countries in the region: "Freight by truck from Artigas to the port of Montevideo (600 kilometres) is more expensive than shipping wool or beef to China", said Echeverría.
Mujica agreed and anticipated that the price of fuel was going up this week 9.5% on average but also revealed that the Uruguayan government is planning to boost fluvial transport, "just as it was a hundred years ago, when we only had railways and no roads system and most cargo was taken to Montevideo port in barges".
However the president and ARU did agree that the ban on adolescents working in camp tasks on horseback should be eliminated. "I know it's an initiative from city people, they don't have an idea that children love riding horses, and most important they are needed to work in the camp".
Furthermore "we are promoting a bill that will allow retired camp people to work a few hours a day, and they will receive their pensions. We need to make use of the knowledge and experience of old folks, like me".
Finally Mujica on leaving the meeting said that with the people or ARU "we always fight, dissent, but we also agree in many things".
Echeverría said that "as it was expected, it was a respectful meeting between a government and a farmers' organization". He added "we agreed on many issues" and revealed that they also addressed other a more general agenda of interest for the whole Uruguayan community.
"Education is the big challenge for Uruguay; we need to invest in our young people and in education" said Echeverría, "plus the issue of values".
"It's not a question of profit, taxes but values, which we need to promote; for example before we were proud that most of our children finished high school, that is down to 36% now, while countries like Chile and Brazil, always behind us have zoomed by. In Chile 72% of workers finished their secondary studies and in Brazil, 50%".
Echeverría said Mujica totally agreed and said 'it was not good to lose that long established tradition that teen-agers in Uruguay should study and work at the same time. That has been lost and is a great loss for the whole country".
Repercussions of Mujica's statement on the currency and Brazil were quick.
The Chamber of Industry president Javier Carrau expressed satisfaction and said that from Mujica's words 'we can at least expect to be competitive with Brazil". He added that equally important is the fact that "the president is aware we have a very serious costs challenge, particularly referred to labour and other social entitlements".