Argentina inflation in August according to congressional index: 2.11%
Thursday, September 12th 2013 - 01:20 UTC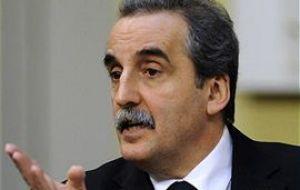 Inflation in Argentina during August climbed 2.11% and 25.2% in the last twelve months according to the release from the Congress Freedom of expression commission. The so called Congressional index is an average of private consultants that have been intimidated from making public their estimates by the government of President Cristina Fernandez.
The congressional index is usually announced a couple of days before the official data from Argentina's stats office, Indec which has been in the eye of the storm since 2007 when its professionals were replaced by political cronies.
The congressional index which is considered the most reliable is usually double the official Indec inflation monthly index. Since January this year Indec has been at least half the congressional index: January, 2.58% and 1.18%; February 1.23% and 0.5%; March, 1.54% and 0.7%; April, 1.52% and 0.7%; May, 1.57%n and 0.7%; June, 1.93% and 0.8%; July 2.55% and 1.06%.
Patricia Bulrich, a member of the Committee said that August inflation was the highest in the last ten years, which confirms that "the increase of inflation during the Kirchner decade has been persistent and sustained".
Lawmaker Carlos Brown said the problem is that inflation reflects the squandering of government resources.
Finally Juan Pedro Tunessi pointed out "we are simply releasing the information from reliable private consultants which have been silenced and censored by the Secretary of Home Commerce Guillermo Moreno. Indec has lost all creditability".
The Argentine government has agreed with the IMF that it will present a new inflation and GDP indexes sometime in the fourth quarter of this year.