Latam trade and growth reflects the weak global economy says Eclac
Thursday, September 12th 2013 - 01:14 UTC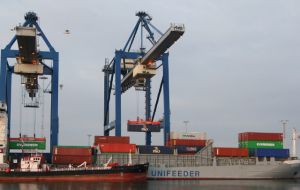 The foreign trade performance of Latin America and the Caribbean reflects the weak global economy. Regional export values are expected to grow by just 1.5% in 2013 (3% in volumes and -1.5% in prices) - which is similar to the 1.4% growth observed in 2012.
Meanwhile, imports are expected to expand by 4.5%, which will bring the region's trade surplus down to 8 billion dollars in 2013 (compared to 41bn in 2012), according to estimates presented today in Santiago in a new report from the Economic Commission for Latin America and the Caribbean, Eclac.
In its annual report, Latin America and the Caribbean in the World Economy 2013, Eclac states that the weak global economy continues to affect the buoyancy of world trade, which is expected to grow by around 2.5% in volume in 2013. This would mean trade growing more slowly than global GDP for the second year in a row, which has not been seen since the 1980s.
Mexico and Central America, which export mainly to the United States, are predicted to benefit from the emerging recovery in that country. However, limited European growth will slow exports from some South American countries that focus on that particular market.
Latin American and Caribbean countries whose exports are mainly to China and the rest of Asia will probably chalk up higher volume growth, while at the same time experiencing a gradual change in demand from commodities to more processed products.
In terms of countries, Paraguay and Uruguay show the largest increases in export values in 2013 (33% and 14%, respectively), and this was largely due to considerable export growth in soybean and meat exports. In contrast, some of the region's countries are seeing their export values fall, such as Peru (-7%) and Guatemala (-5%). Mexico, the region's top exporter, will see export growth of almost 3%. Brazil, the region's second main exporter, will see a standstill in exports.
The document also shows gains in the region's terms of trade between 2004 and 2011, which accounted for almost half of growth in Gross National Income in Chile (47%), as well as major contributions in Ecuador (35%), Mexico (27%) and Brazil (22%). These figures show an excessive dependence on the cycle of international commodity prices (a crucial feature of the region's development).