China will help Venezuela develop a huge oil field investing 14bn dollars
Wednesday, September 18th 2013 - 06:43 UTC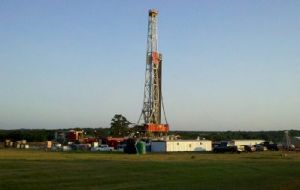 China's hydrocarbons company Sinopec and Venezuela's PDVSA (Petroleos de Venezuela SA) agreed investments to develop the Junin 1 oil field in the Orinoco oil strip, which will demand 14 billion dollars for a daily extraction of 200.000 barrels, said PDVSA president Rafael Ramírez currently in Beijing.
"In a meeting with China's Sinopec we agreed to develop the oil field Campo Junin in the Orinoco hydrocarbons strip", twitted Ramirez who is also Venezuela's Oil and Mining minister.
"Developing Junin 1 demands of 14bn dollars for a daily production of 200.000 barrels, and we have reached an understanding with our Chinese friends both from Sinopec and Citic", added the Venezuelan official.
Junin 1 is one of several exploitation blocks in which the Orinoco strip is divided and which according to official Venezuelan estimates, supported by independent reports, holds 300 billion of oil which is considered the world's largest single reserve of hydrocarbons.
Ramirez in is Beijing as part of the preparatory meetings in anticipation of the coming trip of President Nicolas Maduro who is scheduled to visit China on September 21 to 24.
The Venezuelan official first met with Zhang Yaocan, President of oil and gas company Sinopec; and with the authorities of state-owned investment company Citic group, namely CEO Wang Jiong, and Madame Hong Bo, President of Citic Construction, a press release issued by Pdvsa reported
In both meetings, the portfolios of cooperation projects of Chinese enterprises in Venezuela were reviewed. The aforementioned companies are currently developing projects in several areas, namely, oil production and upgrade, housing, drills assembly, and the construction of oil industrial condominiums.
The Citic group formerly the China International Trust and Investment Corporation is a state-owned investment company established by Rong Yiren in 1979 with the approval of Deng Xiaoping.
President Maduro is scheduled to meet his peer Xi Jinping in his first overseas visit to one of Venezuela's main trade partners. Venezuela sells approximately 600.00 bpd of oil to China, equivalent to 25% of oil exports.
"We are travelling to China to continue strengthening the close links with that several millenniums society which has offered so much to the development of the world", Maduro said.