Malvinas: Uruguay also considers it has historic sovereignty rights over the Islands
Wednesday, September 18th 2013 - 21:33 UTC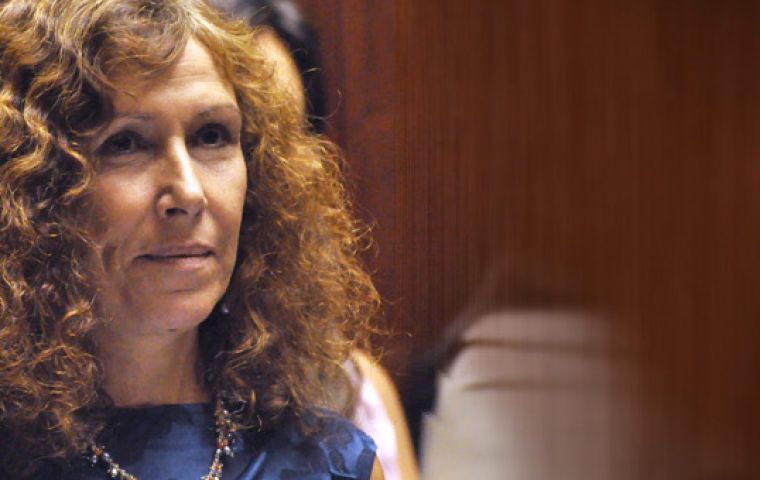 Uruguay has founded claims over Malvinas Islands sovereignty based on international treaties and proclamations dating back to the nineteenth and eighteenth centuries, according to a paper put to consideration of the ruling coalition program draft committee, it was revealed by the Montevideo press.
The document of limited circulation, and belonging to the Defence ministry orbit, was signed by Senator Constanza Moreira who belongs to Uruguayan President Jose Mujica's political sector and calls for the naming of a committee to study Uruguay's rights over the Malvinas Islands sovereignty.
Senator Moreira who is a political scientist and historian, and a 2014 presidential pre-candidate says the committee should be made up of historians, geography experts, jurists, diplomats, politicians and military officers, and recalls that Uruguay's presence in Antarctica as a member of the Antarctic Treaty is based "on the Spain-Uruguay Treaty of 1841 which awards Uruguay sovereignty over the Malvinas Islands".
In effect Montevideo was the main Spanish empire naval bastion in the south Atlantic, and as such in reiterated proclamations was tasked with the responsibility of patrolling the South Atlantic, its insular territories and ensuring the free passage to and from the Pacific to the Atlantic Ocean along the Magellan strait.
Several of the proclamations refer to the fact that the Spanish navy must be on the outlook of the 'English pirates' that poach his "Spanish majesty empire waters".
Strangely enough the report was leaked in coincidence with the launching of a book "Uruguayan visions of the Malvinas" a compilation of different articles by Uruguayan jurists, diplomats and politicians with a foreword from Defence minister Eleuterio Fernandez Huidobro, who happens to be one of the most trusted aides of President Mujica.
The compilation was done by Ramiro Podetti, an expert in foreign affairs who for years was head of the Argentine embassy press office in Montevideo.