Mujica to address UN assembly on 28 September; meeting with several Latam presidents
Wednesday, September 18th 2013 - 01:47 UTC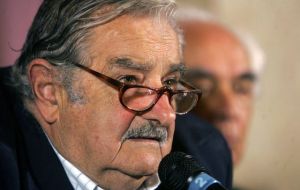 Uruguay's president Jose Mujica will be attending the UN 68th General Assembly on the last week of September in New York, where he is scheduled to meet with several of his Latinamerica peers and the Secretary General Ban-Ki-moon.
Mujica is expected to address the General Assembly on 28 September. He will hold talks with Colombian president Juan Manuel Santos regarding the peace process with the rebel Marxist group FARC and with Guatemala's Otto Perez, a strong supporter of legalizing drugs following on the example set by the Uruguayan leader initiative.
The Uruguayan president is also scheduled to hold a meeting with UN Secretary General Ban-Ki-moon. Uruguay is one the main contributors per capita to UN peace forces missions. Mujica most probably will also meet Argentina's Cristina Fernandez since they have a long agenda of pending issues and New York far away from local media is a good place to talk. The latest issue refers to a request from the Finnish UPM pulp plant to expand its annual production from 1.1 to 1.3 million tons.
The first reaction of the Argentine government has been to reject the initiative, but at the same time unofficially has said nothing will be addressed until after the mid-term October election. UPM is built on a shared and jointly managed river thus the consultation process with Argentina.
No meeting is anticipated with US president Barack Obama but Mujica will be returning to the US, more precisely to Washington some time in November, to meet Obama at the White House. "Thus any bilateral meeting with the US president on the sidelines of the UN assembly has been discarded" said US ambassador in Montevideo, Julissa Reynoso.
Executive Deputy Secretary Diego Canepa who is also travelling in the presidential delegation will hold a raft of meetings regarding development issues since Uruguay during the last five years was member of a group instructed to reform the different systems and at the same time act as a test country.
Canepa said that at the last UN General Assembly it was agreed to continue with the reform process and the leading group was increased to 32, including Uruguay. The Uruguayan official is also scheduled to address with UN authorities issues related to organized crime and drug trafficking, and will later meet with staff from New York mayor offices, since the city supports Uruguay's position in the international court case on smoking ban ads with tobacco corporations.