Blatter admits 'political influence' for 2022 Qatar World Cup; Europe wants change of venue
Thursday, September 19th 2013 - 07:50 UTC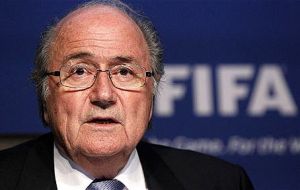 Europe's 54 soccer nations are prepared to support moving the 2022 Qatar World Cup from the summer heat to playing in January. Allegedly European soccer leaders gave UEFA President Michel Platini a mandate for change on Wednesday.
FIFA President Sepp Blatter has suggested his ruling board should agree in principle next month. Estonia Football Association President Aivar Pohlak says the switch should be a "one-off" for Qatar, where summer temperatures can reach 50 degrees Celsius.
Platini will announce UEFA's position after meetings with his strategy council and executive committee end on Friday.
Belgium's soccer president Francois de Keersmaecker says "it seems the 2022 World Cup can't be played in the months of June and July." Scotland FA chief executive Stewart Regan says UEFA members favoured "the beginning of 2022."
Earlier in the day it surfaced that Blatter admitted in an interview to be published Thursday that "political influence" led to Qatar being awarded the 2022 World Cup, with European nations making the choice "because of major economic interests" in the Gulf state.
"Yes, there was definitely direct political influence" Blatter told Thursday's edition of German weekly Die Zeit. "European leaders recommended to its voting members to opt for Qatar, because of major economic interests in the country."
He made the admission when asked if Qatar had been chosen by world football's governing body FIFA based on considerations other than sport.
While rumors of corruption still circulate around FIFA decision in 2010 to award the 2022 tournament to the Arab state, Blatter said: "We have just set up a new, independent ethics commission to re-examine the awarding of the World Cup to Qatar".
However Platini, a possible successor to Blatter, has said in the past he had dinner with then French President Nicolas Sarkozy and the head of Qatar's government prior to the vote but denied being told by the French politician to vote for the Middle Eastern bid.
The Australian Football federation (FFA), which had also bid for the same tournament, is already demanding compensation.