Germany's main oil company signs to operate in development of Patagonia's Vaca Muerta shale deposits
Wednesday, September 25th 2013 - 05:14 UTC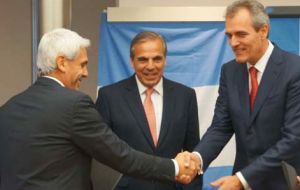 Germany's Wintershall sealed a 150 million dollar unconventional exploration contract with the Argentine province of Neuquén's owned Gas y Petroleo de Neuquén to search for oil in the Vaca Muerta formation. The agreement could later be extended to 3.35bn.
The companies will explore Aguada Federal, a 97-square-kilometre area in the Añelo municipality, according to provincial officials.
Each company will hold a 50% stake in the contract, although Wintershall, which is the oil and gas arm of chemicals group BASF, will be the operator in the search while GyP will remain the owner of the exploration and exploitation permit.
Wintershall will invest 150 million over a maximum of two years, of which 30 million will go directly to Gas y Petroleo de Neuquén. It will then spend some 120 million to drill two vertical and four horizontal wells.
The deal was sealed this week at Wintershall's headquarters in the German city of Kassel, some 120 kilometres east of Frankfurt by Neuquen Governor Jorge Sapag, provincial Energy Minister Guillermo Coco, Wintershall Chairman Rainer Seele and Wintershall head of exploration and production Martin Bachman.
If all goes well, and both companies agree, the agreement could later be extended to drilling some 120 wells in a factory-style development that would require an investment of some 3.35bn dollars over a period of ten years, the Patagonia provincial government said.
That would make the deal larger than the 1.24-billion agreement that state-majority controlled oil company YPF recently sealed with Chevron to drill some 130 wells in Vaca Muerta.
Sealing the modest 150 million now, though, gives Wintershall advance access to Vaca Muerta ahead of Neuquén's planned international tender for exploration rights to Vaca Muerta fields in March of next year.
The tender is the second for those rights after companies winning concessions there in 2008 failed to follow through with investments, Coco said.
Wintershall has operated in Argentina since 1978 and now has operations in the provinces of Neuquén, Tierra del Fuego and Mendoza. Its wholly owned subsidiary, Wintershall Energía, is now involved in 15 oil and gas fields and produces around 27 million barrels of oil equivalent per year, according to the company.
Energy giant Wintershall is Germany's largest producer of crude oil and natural gas.
The vast Vaca Muerta shale oil and gas field covers an area of 30.000 square kilometers, with estimated reserves of 22.5 billion barrels of oil.