Regulating financial markets is a human rights issue, claimed Cristina Fernandez
Wednesday, September 25th 2013 - 08:05 UTC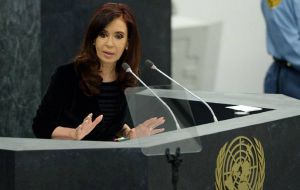 In her speech to the 68th United Nations General Assembly on Tuesday Argentine President Cristina Fernandez stressed that regulating the financial markets is a human rights issue and claimed that Argentina has been a repeat victim of shady financial entities such as the 'vulture funds', despite having repeatedly proved it is prepared to honour debt commitments.
Cristina Fernandez said that having a home, job, hope and dignity are fundamental rights, and that citizens become repeated victims of speculators and financial lobbies.
"We see millions of unemployed in the world, a situation similar to what Argentina went through in 2001," lamented the Argentinean President.
"We have been serial victims of lobbyists, of vulture funds, of those who bought bonds at knockdown prices, and that is the story of Argentina; but in a short time, it could be the story of any other country," she added.
"We are not asking for anything, we are asking for the chance to pay. It seems absurd that we are not allowed to pay in a world falling apart, in a devastated Europe. Unless they want to punish us" said the Argentine leader referring to bondholders that refused previous debt swaps after the 2001 default, and who are currently locked in a bitter legal battle with the country.
Since 2008, she added, "[vulture funds] purchased bonds for 40 million dollars for which they now demand payment, outside the creditors' agreement, without deadline nor deductions, the entire amount of 1.7bn."
Turning to the conflict in Syria, the Argentine president noted that a large majority of Syrians have died in attacks by conventional weapons.
"They have killed more than 150,000 people and 99.9% of those people have died by conventional weapons, not chemical weapons," said Cristina Fernandez.
She recalled that at the most recent G20 summit in St. Petersburg, Russia the question arose as to what difference it made if a person was killed by shrapnel, landmine, missile, grenade or chemical weapons.
"There are not just wars; only peace is fair," noted Ms. Fernandez.
Stressing the lack of action from the Security Council to reach a political settlement to the Syria crisis, Cristina Fernandez mentioned that Argentina held the Council's rotating presidency during the month of August.
While chairing the Security Council thematic debate on cooperation between the UN and regional organizations on 6 August, Cristina Fernandez said she proposed reforming the 15-member body so that its decisions would be taken by consensus without the possibility of a veto, as it is done with success in several regional multilateral organizations.