Argentina appeals Judge Griesa ruling stating central bank reserves are 'seizable' for certain purposes
Thursday, September 26th 2013 - 22:43 UTC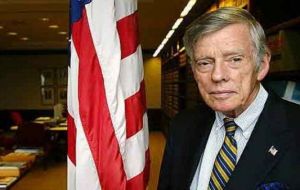 New York Judge Thomas Griesa has ruled against Argentina's request to dismiss a lawsuit over the Central Bank (BCRA) reserves, which if upheld could allow holdout creditors to seize assets belonging to the country.
Hedge funds NML Capital Ltd. y EM Ltd. filed the suit over BCRA seeking to establish the entity as one and the same as the Argentine state. Attorneys asked Griesa to announce BCRA as the nation's "alter ego" and responsible for an outstanding debt payment of 2.6 billion dollars.
Griesa's decision comes prior to a US Supreme Court hearing next Monday, when they decide whether they interfere with the central case between the hedge funds and the Argentine State.
Griesa reaffirmed during the Court hearing: "I believe the plaintiffs' demand is legitimate as for certain purposes BCRA is the alter ego of the Republic", although admitting that it was in effect in the hands of the appeals court to rule.
However Argentine official financial sources said that "the decision is not going to affect the country's reserves", as the State had won the same case in the Court of Appeals in 2011 and 2012 who declared BCRA assets "non-sizeable" and protected by the US bill on sovereign immunity of central banks' international reserves.
In 2011 the Court of Appeals stated that beyond the independence or not of central banks, what prevails in the sovereign immunity bill of all central banks international reserves which are deposited in the Federal Reserve for operations typical of such banks.
In its ruling the Appeals court also stated that the Argentine central bank was in effect "more independent from the Argentine government than the Fed from the US and the Bank of England from the British government".
At the time Argentina had the benefit of 'amicus cureae' (friendly statements) from the US administration of President Barack Obama and the US Fed chairman Ben Bernanke, This in understandable since the sovereign immunity bill is geared to protect the reserves of central banks deposited in the Federal Reserve and sustaining the Griesa ruling could have caused a dollar bank-run from developing countries. The appeals court also recalled that the immunity system for central bank reserves dates back to 1970.
Nevertheless the Elliot hedge fund insisted with similar claims before the Swiss, Belgian and French courts but with no success.
The Argentine representatives in the case plan to appeal the decision, which reverts a previous ruling dating back to 2005. "In any case it should be a ruling with no consequences but for the academic bibliography".