Spain out of recession "but not out of the crisis", Rajoy tells US financial media
Thursday, September 26th 2013 - 21:36 UTC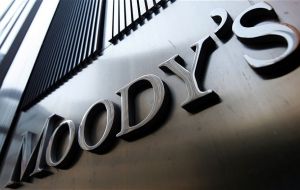 President Mariano Rajoy making the round of financial media in New York this week, said Spain had emerged from recession in the third quarter with estimated economic growth of 0.1% to 0.2% forecast and 0.5% to 1% in 2014.
"Spain is out of recession but not out of the crisis" Rajoy is quoted by the Wall Street Journal and later repeated in a similar presentation to Bloomberg news television. "The task now is to achieve a vigorous recovery that allows us to create jobs."
Spain has been reeling from a double-dip recession brought on by the bursting of a housing bubble in 2008. The unemployment rate is currently forecast to stand at 27.1% at the end of this year and 26.7% in 2014. It dipped to 26.2% in the second quarter of this year thanks to summer hiring.
"We will present a draft state budget for next year and we will prudently raise the growth forecast from 0.5% to 0.7% even though the consensus of analysts is of growth of around one percent," Rajoy said.
Rajoy's conservative government has vowed to haul in its budget deficit and has imposed tough budget cuts and tax hikes to that end since taking office in late 2011. The government's previous forecasts had tipped a 1.3% contraction in overall economic output in 2013.
Rajoy said he expected Spain would not need to extend into 2014 a Euro-zone bailout program for its banks from which it drew 41.3 billion Euros last year, helping to stabilize the sector.
On Thursday the central bank confirmed that Spain's two-year deep recession appears to be drawing to a close, predicting an end to the downturn in the third quarter of 2013.
"Available data, still partial and incomplete, would be coherent with stabilization or even a slight increase in output in the July-September period," it said.
The rate of deterioration in various sectors of the Spanish economy had slowed, the central bank said, pointing to rising confidence among households and retailers, and a return to expansion in manufacturing.
The report was the latest sign of greater official optimism about Spain's economy, the fourth-largest in the Euro zone, which last year averted a widely anticipated full-blown economic bailout.
Analysts at New York-based global credit rating and research group Moody's agreed that Spain is emerging from the recession.
"The Spanish economy will begin to grow before the end of this year, led by exports," said a report by the group's research arm, Moody's Analytics.
"However, the recovery will be weak, as the boost to the economy from the pickup in exports will be only modest and as fragile domestic demand drags heavily on growth," said the report's author, Zach Witton.
The group forecast that Spain's economy would contract by more than one percent this year before expanding by 0.3% in 2014 and 0.8% in the following year. That rate of growth would be insufficient to generate net job creation until 2016, Moody's Analytics warned.
Spain announced plans to reduce the public deficit from 7.0% of GDP last year to 6.5% this year and 5.8% in 2014, eventually dipping below the EU-agreed ceiling of 3% in 2016. But the weak recovery will keep a lid on tax revenue, "making it difficult for the government to reduce its debt burden."
The country's GDP has lost 7.5% since the crisis hit the economy in 2008, while public debt is far above normal, crawling to the size of the entire economy at 92.6% of GDP.
Last week Ireland was the first among the EU states to declare it exited technical recession, though also added there was little reason to celebrate victory.