Argentina and Iran meet on Saturday to address the Jewish community bombing
Friday, September 27th 2013 - 05:47 UTC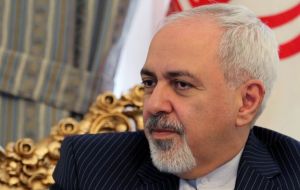 Argentine foreign minister Hector Timerman has confirmed that he will meet Iranian counterpart Javadi Zarif, in a talk designed to throw light on the current status of the AMIA agreement. The meeting coincides with the announcement that the six major powers and Iran have agreed to meet in Geneva next month for further talks on resolving the standoff with Tehran on its nuclear program.
The Timerman/Zarif meeting scheduled for Saturday will have as main topic obtaining information about the memorandum of understanding, signed nine months ago by both countries but approved only by the Argentine Congress.
"I just received a phone call from Foreign Minister Javad Zarif in order to have a meeting regarding AMIA", stated Timerman in a dialogue with journalists on Thursday.
However, official sources revealed that in fact that it was the Argentine Government who requested for the encounter and that Iran's officials had recently confirmed it following President Cristina Fernández speech where she demanded to know in what situation the agreement was.
"We are hoping they will tell us that the agreement has been approved (in Iran) and to settle a date where an Argentine Judge will be able to fly to Tehran", urged the head of state.
In Buenos Aires the AMIA and DAIA Jewish community institutions reaffirmed their objections to the memorandum of understanding and cooperation with Iran, approved in Congress nine months ago.
"The Iranian regime has showed repeated signs of unwillingness to cooperate with the investigation, while ignoring all the requirements on the matter", the heads of the Jewish entities jointly informed in a press statement.
The organisations also revealed their confidence "in the Argentine judiciary, and especially in the investigation led by the public prosecutor, while insisting on the unconstitutionality of the law that approved the agreement".
In her address before the General Assembly, President Cristina Fernández expressed her concern at being unable to advance with the accord between both countries to bring to justice those involved in the AMIA bombing, which the Iranian parliament is yet to pass into law.
In 1994, an attack demolished the Jewish Mutual building in downtown Buenos Aires, killing 85 people and injuring hundreds. According to local judicial sources, five Iranian officials were involved in the act.
Meanwhile in New York the six major powers and Iran agreed to meet in Geneva next month for further talks on resolving the standoff with Tehran on its nuclear program, the European Union's foreign policy chief Catherine Ashton said.
"We had a discussion about how we would go forward with an ambitious timeframe to see whether we can make progress quickly," Ashton told reporters after a meeting between major powers and Iran. She described the meeting as substantial and energetic.
The meeting took place on the sidelines of the UN General Assembly in New York and included Iranian Foreign Minister Mohammad Javad Zarif and counterparts from the United States, France, Russia, China and Germany.