Argentina/Iran meeting in Geneva in November to address the AMIA bombing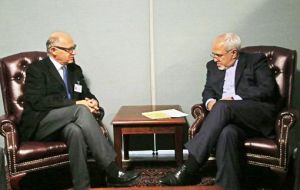 Iran and Argentina have confirmed they will be meeting in November in Geneva to continue discussions on the Memorandum of Understanding to jointly probe the bombing of the AMIA Jewish community centre in Buenos Aires 19 years ago. The information was announced following two meetings held on Saturday between Foreign Minister Héctor Timerman and his Iranian counterpart Mohammad Javad Zarif at the UN headquarters in New York.
Minister Zarif also revealed that the Memorandum of Understanding had been approved by Iran's "competent authorities", a move Argentina was demanding since the government of President Cristina Fernandez had already complied by having the agreement approved in Congress and was waiting for a similar move.
The next step will be the exchange of documents officially announcing that governments have enforced the MoU. The two ministers met for almost an hour on Saturday morning and later in the afternoon for a quarter of an hour when the announcements were made.
Other mainstays of the bilateral meeting were the establishment of a Truth Commission and the date for Argentine judicial officials to arrive in Teheran in order to proceed with the interrogation procedures of five Iranian citizens allegedly involved in the attack that claimed the lives of 85 people and injured hundreds in Buenos Aires in 1994.
Officials are expected to address both issues first with each respective government paving the way for the meeting in November in Geneva.
During her UN address on Tuesday, President Cristina Fernández urged the new government of Hassan Rouhani to confirm whether the MoU has been passed by the Iranian parliament in order to settle a date both for the establishment of the Truth Commission as well as a date for Argentine judicial officials to arrive in Tehran and proceed with the interrogation of five Iranian citizens allegedly involved in the deadly attack.
"I think sufficient time has elapsed for replies, which the victims of the attack deserve and so does the Islamic Republic of Iran if they want to show the world that there is a different government and there are different actions", said the Argentine president.
The accord was first signed in January this year to probe the 1994 bombing of the AMIA Jewish community centre that took place in Argentina's capital city on 18 July 1994. The so called MofU sets the creation of a Truth Commission made up of independent legal experts neither of them from Argentina or Iran who will be analyzing the up-to-date evidence on the AMIA attack and issue a report. The commission members will not be in charge of investigating the case with judicial authorities in charge of the AMIA investigation.