Cristina Fernandez and Mujica in a prudent silence over the pulp mill controversy
Tuesday, October 1st 2013 - 06:46 UTC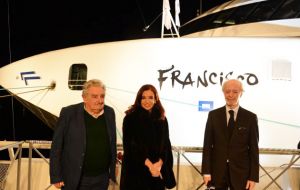 Argentine President Cristina Fernández met on Monday with her Uruguayan counterpart José Mujica after the pair inaugurated a new vessel belonging to the ferry company Buquebús, (which joins Montevideo with Buenos Aires), in order to discuss matters related to the controversial UPM pulp plant formerly known as Botnia.
The heads of state left together after the event and talked in a tent supplied by the company, which unveiled their 'Pope Francis' sea-craft at the port of Buenos Aires in the presence of both presidents. Mujica and Cristina Fernandez addressed a recent request by UPM, to increase production at the mill, from 1.1 to 1.3 million tons annually and which is opposed by the Argentine government.
Argentine Foreign Minister Héctor Timerman spoke to reporters, revealing that on Tuesday "a Uruguayan delegation will travel in order to talk with the Foreign Ministry about the ex-Botnia; dialogue is completely open".
However the two presidents were careful to make speeches at the ceremony calling for regional and River Plate unity, represented by the sea-cat which will further link the neighbouring countries.
"I'm not going to play on contradictions, because we are on the same side: when the world is uniting we must not commit the mistake of separation" said Mujica who praised the Argentine president and the capital Buenos Aires, "this in my town, much bigger yes but I feel at home. I'll come as many times as I can and my bones allow me, to embrace the Argentine people".
President Cristina Fernandez following the same thinking said that "we might have discrepancies but all presidents of the region have understood that unity in the only way to keep growing"
She added that in a world each time more adverse, not only the concept of peace but also of trade is significant and "we must try to create all conditions to that things happening in other latitudes have the least impact on our countries".
The UPM former Botnia pulp mill has been a motive of controversy between the neighbouring countries since the very start at the beginning of the new millennium because of pollution claims for the Argentine side of the shared river where the plant was built and is operating.
After years of discussions and pickets blocking the bridge the case was taken to the International Court of The Hague where in a half-half ruling Mujica and Cristina Fernandez agreed to bury the war-axe and try to live with the situation.
However Argentina faces mid term elections at the end of the month and Cristina Fernandez is anxious about results while the UPM plant in coming months will face strong competition from another pulp plant and thus is pressing with the 2011 request to expand production.
Mujica has publicly stated he favours the expansion of the mill on condition of certain environment conditions but did not reveal any details "until I meet with President Cristina".