Argentina will challenge Uruguay's decision to expand pulp mill production at The Hague Court of Justice
Thursday, October 3rd 2013 - 07:09 UTC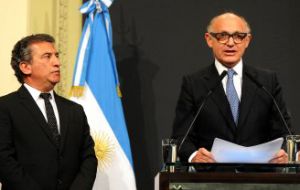 Foreign Minister Héctor Timerman has confirmed that Argentina will go before the international court of justice at The Hague over the decision of Uruguayan president José Mujica, who on Wednesday authorised increased production at the UPM (ex-Botnia) paper plant.
"Argentina laments the fact that UPM's interests are so powerful as to become a factor which determines relations between Uruguay and Argentina. In the same way we have opposed the actions of the vulture funds, we will also not allow ourselves to be swayed by an international business," the Minister fired in a press conference held at the presidential palace, alongside Entre Rios governor Sergio Urribarri.
Timerman underlined that he would "return to the International Court of The Hague," due to Uruguay's decision to increase the plant's production, which in his words "affects the environmental sovereignty of Argentina, violates treaties between the two nations as well as The Hague's own rulings."
"Uruguay has broken talks unilaterally, which leaves our country judicially obliged to go before The Hague," he explained, also making reference to the environmental complaints filed by scientists - which include the levels of phosphorus and the temperature of waste products released into the River Uruguay shared and jointly managed by Argentina and Uruguay.
Meanwhile Argentine pickets from the city of Gualeguaychú announced that on Sunday they would be marching across the San Martin international bridge to deliver to Rio Negro mayor Omar Lafluf a petition calling for a ban on the production capacity expansion at UPM.
Gualeguaychú mayor Juan Jose Bahillo is expected to head the protest on Sunday.
Earlier in the day President Jose Mujica announced that Uruguay had authorized the UPM pulp mill to increase annual production by 100.000 tons conditioned to several environmental measures.
"I regret very much the decision which will generate problems but this will not change my love for the Argentine people", said Mujica.
The authorization however is 'provisional' until UPM complies with the construction of a cooling tower to ensure effluents dumped into the Uruguay River reach at temperatures below 30 degrees. It also demands a lower content of phosphorus in the waters emptied in the river.
"The Uruguayan government decision shows the ongoing support for the forestry sector", commented UPM Senior Vice-president Jaako Sarantola.
"The productivity increase in capacity of the plant is the result of a serious professional commitment from the Uruguayan team all along the forestry chain", added Sarantola. From the very beginning of operations the environmental performance of the plant has been excellent and respected the established limits".