Repsol expands 70% a natural gas processing plant capacity in Bolivia
Thursday, October 3rd 2013 - 07:19 UTC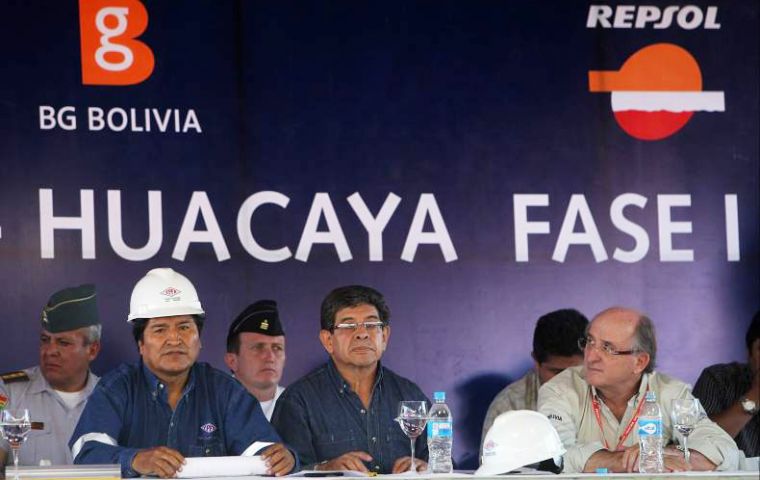 Bolivian President Evo Morales and the chairman and CEO of Spanish energy major Repsol, Antonio Brufau, inaugurated the newly expanded Margarita natural gas processing plant, with a capacity increased of nearly 70%.
Morales and Brufau traveled to the southern Bolivian province of Tarija to inaugurate this latest phase of the Margarita project. Top BG and PAE executives also attended this week's ceremony, which Morales termed "historic."
Brufau said the plant's overhaul is the second milestone in an expansion project that also includes the construction of gas pipelines and the drilling of four additional wells to increase output at the Repsol-operated Margarita field, in which British Gas and Pan American Energy also have a stake.
Phase II of the Margarita-Huacaya project will increase the plant's capacity to 15 million cubic meters per day, up from the 9 million-cubic-meter capacity obtained with Phase 1, which was completed in May 2012.
Although Repsol had committed to producing 13 million cmd starting Oct. 1, it is already prepared to deliver 14 million cmd to Bolivian state energy firm YPFB for shipment to domestic and foreign markets.
Since 2010, Repsol and its partners have been carrying out an investment plan at Margarita valued at more than 1.2 billion dollars.
The main customers for Bolivia's natural gas are Brazil, which purchases some 30 million cmd, and Argentina, which imports half of that volume.