Ice patrol HMS Endurance a complete loss, will be scrapped says MOD
Thursday, October 10th 2013 - 01:25 UTC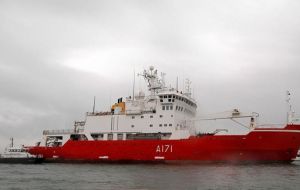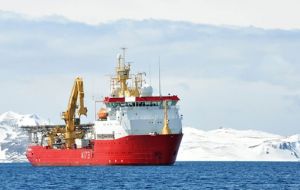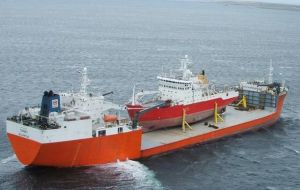 The Royal Navy's former ice patrol ship HMS Endurance is to be scrapped after the Ministry of Defense decided the cost of repairing the vessel, which flooded off the coast of Chile in 2008, was too great.
The move comes as three former Type 22 frigates are set to be towed from Portsmouth Naval Base to the Leyal Ship Recycling centre in Turkey - the same scrapyard which bought the Ark Royal aircraft carrier. A fourth frigate is also to be taken to the Swansea Drydocks to be dismantled.
The first to leave is Chatham, followed by Campbeltown and Cumberland, with Cornwall set to sail for Wales at a later date.
HMS Endurance, known as Red Plum, was severely damaged by flooding in the incident to the west of the Magellan Strait. A total of 15 civilians had to be airlifted off the ship following the leak which was caused by a faulty valve.
Decisive and professional rescue support from the Chilean navy prevented the icebreaker with dead engines from running on to the rocks.
The ship's role as the Navy's Antarctic patrol vessel has been taken over by HMS Protector - a former Norwegian research ship which was given a refit for its new role.
A MoD spokesman said: "To bring HMS Protector up to the Royal Navy's world-class standards, £5 million was invested in improved communications systems, enhanced armor protection and specialist hydrographic equipment including a survey motorboat.
"HMS Endurance is due to go out of service in 2015 and, given the level of damage she sustained and the subsequent deterioration of the ship, it was not considered economically viable to repair her.
"The purchase of HMS Protector offers good value for money and secures the UK's long-term ice patrol survey capability".
HMS Endurance was later tugged to the Falkland Islands and from then on a special submersible barge took her back to Britain.
The spokesman said the sale of the four frigates raised just under £3 million.
He said: "Following competitions, two contracts have been awarded to recycle four former Type 22 Frigates (Cumberland, Campbeltown, Chatham and Cornwall).
"A contract for three of the ships (Cumberland, Campbeltown and Chatham) has been awarded to the Turkish recycling company Leyal Ship Recycling. The contract for the fourth ship (Cornwall) has been awarded to Swansea Drydocks, a UK recycling company based in South Wales. All four ships will be recycled."