Council of Europe blasts Spain on law enforcement authorities' violations
Sunday, October 13th 2013 - 11:38 UTC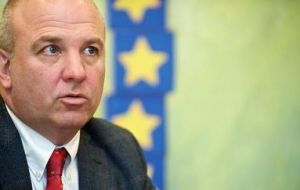 Spain has been warned about the conduct of its law enforcement authorities in a new Council of Europe report. "Ill-treatment by and impunity of members of law enforcement agencies is a very serious, long-standing human rights issue for which Spain has already been condemned by international bodies" reads the study.
The report was drawn up by Nils Mulznieks, Commissioner for Human Rights of the Council of Europe, following his visit to Spain in June 2013.
"The Spanish authorities should ensure that law enforcement officials fully abide by international human rights standards" the report continues. It cites incommunicado detention as having led to a number of "grave human rights violations" and recommends that the practice be abolished.
Commissioner Mulznieks also urges the authorities to "vigorously counter ethnic profiling practices, which notably target and stigmatise migrants in stop-and-search operations."
The report also warned that Spain's continuing austerity measures are breaching the human rights of vulnerable groups such as children and those with disabilities.
"Cuts in social, health and educational budgets have led to a worrying growth of family poverty in Spain." the report stated.
He called on Prime Minister Mariano Rajoy's government to "implement effective strategies to solve these poverty-related problems and increase the protection of socio-economic rights."
The report further stressed that "the growing child poverty, malnutrition and inadequate housing are issues of serious concern because of their potentially devastating long-term impact on children and the country."
Commissioner Mulznieks cited figures which showed that the child poverty rate reached 30% in 2011. The commissioner therefore urged the authorities to adopt and implement more vigorous and co-ordinated strategies to tackle the root causes of child poverty and to prevent it. He recommended accession by Spain to the revised European Social Charter and its mechanism of collective complaints.
The Commissioner further warned that significant cuts on education budgets in the last three years are undermining children's equality opportunities by making it difficult for children facing specific difficulties or disadvantages to access quality education.
He was particularly concerned that human rights education be kept as part of the curricula, as "it is a key factor in building a future generation of active and responsible citizens, who are the life blood of a democratic society."
The report also warned that persons with disabilities in Spain are facing poverty and are being marginalized as the government has withdrawn the state aid. He recommended that Spain should "carry out an impact assessment of budgetary cuts on persons with disabilities and adjust policies to ensure that adequate resources are available for their education and employment opportunities.