HMS Protector leaves for Antarctica from Portsmouth but will return to Davenport
Tuesday, October 15th 2013 - 18:15 UTC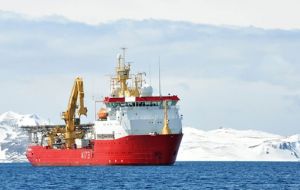 Royal Navy's newest ice patrol ship HMS Protector leaves Portsmouth this week on deployment to Antarctica, but she will be returning to Davenport, where she is to be based in the future.
The British Ministry of Defense (MoD) has decided the icebreaker will now be based in Devonport, rather than Portsmouth, to join her with the navy's other survey ships, according to The Portsmouth News.
The decision comes after the British government decided to scrap HMS Endurance, the ice patrol ship which has been laid up in Portsmouth since it suffered catastrophic damage in 2008.
HMS Protector, a Norwegian ship which was on loan to the UK, has now been purchased to take her place. She sails on deployment this but when she returns to British waters in April next year, she will head for Devonport.
A spokeswoman for the Ministry of Defense said: 'Last year, the Royal Navy established a Hydrography and Meteorology Centre of Specialization at Devonport, which was already the base port of the four survey ships in the squadron.
'It has been decided that HMS Protector will move to Devonport on April 1, 2014.
'This will bring the fleet together and complete the Royal Navy's plans to focus Hydrography and meteorology expertise in a single location".
HMS Protector which is deployed on operations for 330 days a year, is capable of positioning to centimeter accuracy in winds of up to 80 knots and is fitted with an impressive array of specialist equipment, including: a hull mounted multi-beam echo sounder; a state-of-the-art survey motor boat (SMB), 'James Caird IV'; an 8.5m ramped Work Boat, 'Terra Nova'; 6 high-speed rigid inflatable and inflatable boats; 2 specialist tracked vehicles; 3 quad bikes and trailers, and a Land Rover.
HMS Protector has been described as the Royal Navy's 'Swiss Army Knife' – red, versatile, and always there when you need her. She is expected to travel south via St Helena, Simon's Town in South Africa, Tristan da Cunha and Falklands before arriving in Antarctica