"God willing" Cristina Fernandez will be back very soon, say close aides
Thursday, October 17th 2013 - 20:28 UTC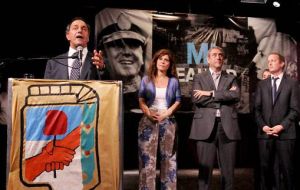 "God willing" Argentine president Cristina Fernandez will be back in full strength anticipated Buenos Aires province governor Daniel Scioli on Thursday unveiling the secrecy that surrounds the head of state since she underwent surgery a week ago to extract a cranium blood clot and has been recovering at the Olivos presidential residency.
"In a few more days, God willing, Cristina (Fernandez) will be with all her strength along with us for the re-opening of the Siam (refrigerator) factory" Scioli said during the main rally to mark "Loyalty Day" in the Buenos Aires province locality of Avellaneda.
Later at the Tecnópolis science and technology fair in Villa Martelli, Scioli told reporters he was following up on Cristina Fernandez recovery through official medical reports. "We are more committed than ever, loyalty to me is responsibility," Scioli assured.
While the Argentine president was in hospital there were daily reports on her medical condition and treatment, however these ceased since she continued convalescence at the official residence.
Scioli also referred to the coming October 27 by-election and said he was "confident" about results.
"We believe in what we are doing. These days of thinking over the vote and reflecting on the elections, I think there will be a vote in favour of the province of Buenos Aires and that it will be represented by the political force headed by Martín Insaurralde (Cristina Fernandez hand picked candidate)," Scioli affirmed.
The election in less than two weeks time has become crucial at both ends: on the one because Cristina Fernandez wants to ensure a stable transition in the two years left of her mandate and this means holding on to a working majority in Congress.
At the other end the dominant Peronist movement is preparing to chose a new leader or potential leaders, ahead of 2015 when the next presidential round. In both scenarios the Argentine political system and public opinion long for a mature, civilized transition avoiding circumstances as those of 1989 and of 1999/2001, when two elected presidents had to step down before the end of their terms plunging Argentina into political chaos and massive sovereign default.
In either case the role of Cristina Fernandez, 60, as king-maker or leader of a strong faction in the dominant Peronist movement remains essential.
Thus the announcement from governor Scioli comes as a bit of a surprise since the multi-discipline team involved in Cristina Fernandez surgery mentioned a 'very strict' recovery period of at least 30 to 45 days, which is beyond 27 October and furthermore emphasized the president had to remain 'strictly' absent from all current political information and any chances of 'stress'. She is also banned from flying since she usually likes to rest at her residences in El Calafate in extreme south Patagonia.
Precisely Lomas de Zamora mayor and her candidate Insaurralde confirmed that President Cristina Fernandez must abstain from following Argentine current news, "but only for a few days".
"As a political leader I want Cristina back and a quick recovery, but we all want her back strong", said Insaurralde who added, "she loves this country and I know she works the 365 days of the year, but she needs a few days off, we beg her to take those days, because essentially we need her, there is much to be done for Argentina and she must continue at the helm".
Currently and formally Cristina Fernandez has seen her protocol duties taken over by Vice-president Amado Boudou as acting president but it is well known that he is very much limited in his decisions (by hard-line Kirchnerites) and is a liability for government given his several pending issues with the courts.
Nevertheless the Argentine opposition, analysts and the business community have questioned the secrecy with which all the information relative to Cristina Fernandez health and medical condition are being managed since she was discharged from hospital (with a strict order of 30 to 45 days rest period), contrary to the transparency of the daily reports during the first week.