Positive start to Falklands cruising season
Friday, October 18th 2013 - 15:27 UTC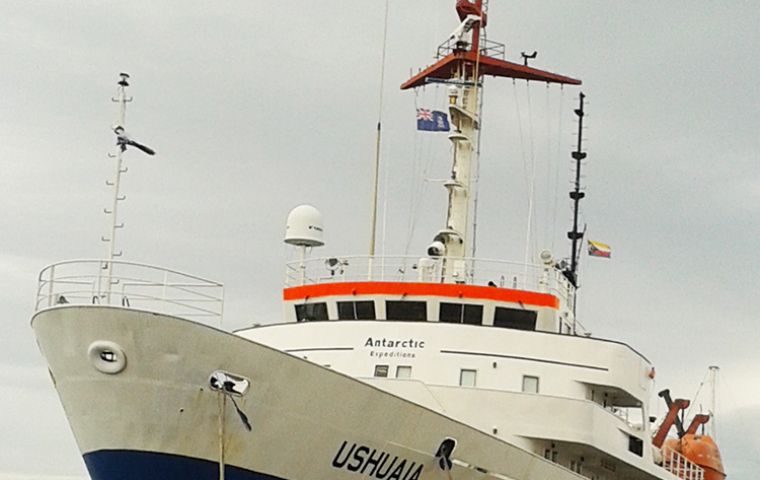 The tourist season in the Falkland Islands opened on Saturday with the arrival of the M/V Ushuaia, which with 84 passengers is typical of the many smaller expedition vessels which pay visits to Stanley and also to some of the outlying islands famous for their abundant wildlife.
M/V Ushuaia will be followed the following week by two other expedition vessels: M/V Expedition (140 passengers) and M/V Ocean Nova (84 passengers).
Receiving such vessels on behalf of Sulivan Shipping Ltd is Samantha (Sammy) Marsh who told MercoPress that the season "is looking promising" adding that 45,000 cruise ship visitors are expected between now and April next year. This is much more than last year when a total of 21 cancelled ship visits caused the numbers of cruise ship visitors to drop to just over 23,000. According to Sammy, "half of those cancellations were due to bad weather - which is to be expected in this part of the world, but the rest were due to political pressure. "
Sulivan Shipping Ltd works with 95% per cent of the cruise ships that visit the Falklands. The range of visiting vessels is impressive, from the small expedition vessels with under one hundred passengers to the monster floating cities with over two thousand. Somewhere in there also to give delight to the eye are the occasional majestic tall ships which offer their passengers adventure and a taste of the days of sail.
No matter what kind or size of ship, they get an enthusiastic greeting from Sammy, who says, "It is wonderful to meet and work with such a diverse range of people and show case our beautiful Islands to them. We are really looking forward to another busy season and remain optimistic that the political situation remains stable to ensure a successful season for all ports in the Southern Cone."