Brazil confident Paraguay will be returning to Mercosur before the end of the year
Monday, October 21st 2013 - 05:30 UTC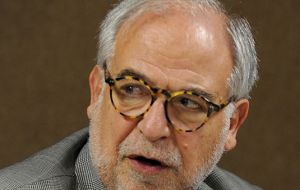 Brazil trusts Paraguay will fully return to Mercosur before the end of the year, said Brazil's Executive foreign policy advisor Marco Aurelio Garcia in a Sunday edition interview with the influential Folha de Sao Paulo.
"We know the return is going to take place and we hope it occurs before the end of the year, so that Paraguay can participate in the summit of Caracas in December" said President Dilma Rousseff's advisor.
Paraguay was suspended from Mercosur since 29 July 2012 until last 15 August when current president Horacio Cartes took office. Paraguay with Argentina, Brazil and Uruguay are founding members of the bloc which incorporated Venezuela in 2012, virtually the same day it applied the 'democratic clause' suspending one of its members.
Paraguay was sanctioned following the removal of then president Fernando Lugo, which Mercosur defined as a 'rupture of democratic order' but was overcome with the presidential elections of last April and the inauguration of Cartes.
According to Garcia, Cartes has yet to announce the formal return of Paraguay to Mercosur, and "there are great efforts to achieve that goal".
To that respect he mentioned the recent visit of Venezuelan Foreign minister Elías Jaua to Asunción, during which diplomatic relations between the two countries were formalized after their rupture in June 2012.
"That was a significant gesture", said García who reiterated he was confident Paraguay would be formally reintegrated and attending the Mercosur twice annual summit to take place in the Venezuelan capital next December.
Brazil and other members need to have the bloc re-united before the end of the year when Mercosur must exchange proposals for a long pending trade agreement with the European Union. EU demands all members participate in the negotiations.