Cruise on world tour calls in Uruguay; season opens officially November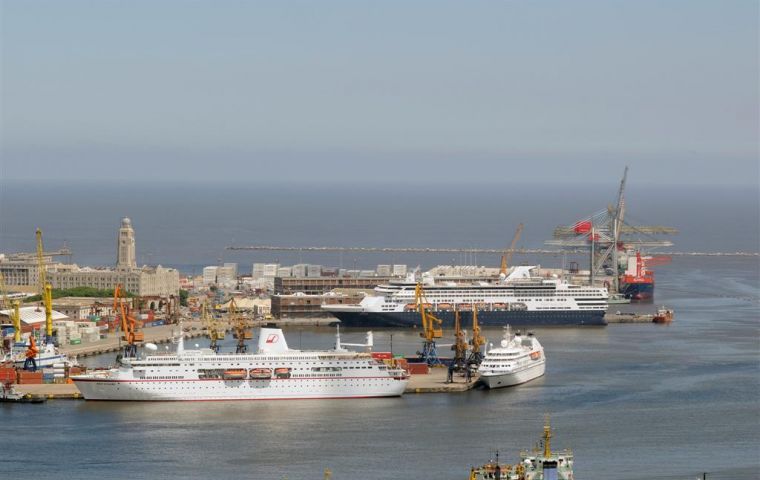 Even when Uruguay's official cruise season is scheduled for November this last Sunday Montevideo received "Costa Neo Romantica" a vessel on a world tour. She was expected to call at the Atlantic seaside resort of Punta del Este, but adverse weather conditions cancelled the visit.
This season Uruguay is expecting 235 to 240 cruise calls in the ports of Montevideo and Punta del Este, which involves an estimated 400.000 people between visitors and crew members, according to Benjamin Liberoff, Director of the Ministry of Tourism and Sports.
"In the previous season (2012/13), 223 vessels called in Uruguay: 122 to Montevideo and 101 to Punta del Este, so we are expecting a healthy increase of 7% in the number of visits", said Liberoff, who added that this will mean an 18 million dollars influx to the economy.
"This coming season will see larger vessels than previous years, which means that with the same docking facilities we will be receiving more visitors" said Liberoff.
The 'Costa Neo Romantica' was scheduled to reach Punta del Este on Sunday at 09.00 in the morning but because of bad weather sailed on to Montevideo. Of the 1.500 that came ashore an estimated 900 took 30 coaches and were driven to Punta del Este.
The county of Maldonado to which Punta del Este belongs published in its internet site that the resort will receive 123 cruise vessels this summer, from November to April 2014, with an estimated 200.000 visitors.
"This represents an increase of 17 calls compared to the previous season. It is scheduled that on 18 December six cruise vessels will be anchored in the Maldonado Bay with 12.000 passengers" added the site.
Liberoff also mentioned that on 22 November there will be a meeting in Punta del Este to assess the impact of the cruise industry for Uruguay which will be attended by cruise company operators, plus officials from the ministry and county authorities.