Gibraltar Day in London attended by the Rock's Chief Minister and cabinet
Monday, October 21st 2013 - 21:25 UTC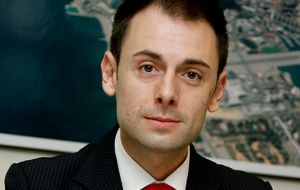 Chief Minister Fabian Picardo is in the UK to attend Gibraltar Day in London and various other events this week. CM Picardo is accompanied by several other Gibraltar Government ministers who will also participate in the scheduled events, including Finance Minister Albert Isola, Education and Justice Minister Gilbert Licudi and Neil Costa, the Minister for Tourism, Public Transport, Commercial Affairs and the Port.
On Monday the Gibraltar Government was scheduled to host a lunch for senior executives from the financial services sector, followed by the traditional Chief Minister's reception in the Great Hall of the Guildhall in the evening.
On Tuesday the Gibraltar Government will host a breakfast briefing for the gaming industry in Moorgate Place. As well as attending the lunch and breakfast briefings, Minister Costa will host a 'Maritime and Tourism' breakfast at Trinity House for leading representatives of the two sectors.
At the event Costa will give a speech on Gibraltar's performance in these areas over the past year. During the week Minister Costa expects to hold other meetings in relation to on-going tourism matters.
"I am very pleased to host the Maritime and Tourism breakfast where I plan to meet with some of the leading UK figures in both sectors, and continue the Gibraltar Government's energetic drive to promote these key areas of our economy," he said.