Cartes and Mujica will address Mercosur and port facilities in Friday's meeting in Montevideo
Tuesday, October 22nd 2013 - 16:34 UTC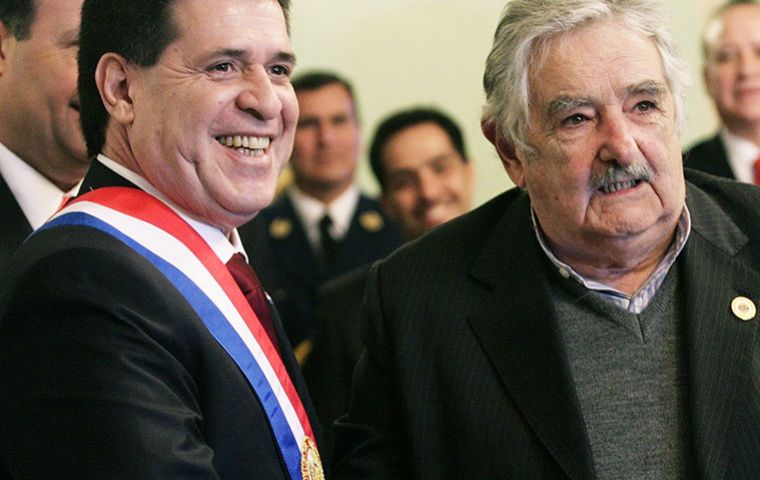 Paraguayan president Horacio Cartes will be visiting Uruguay next 25 October to meet with his peer Jose Mujica and a month later will be flying to the Vatican to visit Pope Francis, November 25, announced Foreign minister Eladio Loizaga.
Cartes is interested in Uruguay's ports development, Nueva Palmira from where landlocked Paraguay grains and oilseeds are mostly shipped, and Mujica's announcement of a deep-water terminal to the east of Uruguay on the Atlantic coast.
"With the visit to Uruguay we complete the tour of Mercosur members. This is the second meeting with Mujica. The first was when the Uruguayan leader came to the inauguration of President Cartes", said Loizaga.
The following Cartes trip is to the Vatican to meet with Pope Francis, on 25 November, added the Paraguayan minister.
"Some are complaining that Cartes is travelling too much. I want to tell them that we need to travel even more because Paraguay needs to rebuild its presence in the international stage", underlined Loizaga.
The Paraguayan minister said he will be meeting with his Uruguayan peer Luis Almagro with whom he will address Mercosur political issues. Loizaga also announced that President Cartes will be visiting Ecuador and Venezuela.
Paraguay was suspended from Mercosur in June 2012 and was invited to return last August when Cartes inauguration, but Asuncion has been reluctant to a complete return unless some 'legal and legitimacy' aspects are addressed.
Although Venezuela was admitted as full member of Mercosur, for Paraguay the incorporation remains illegitimate since the Paraguayan congress must again consider the issue because originally it voted against the membership. In Mercosur such decisions must be by consensus and with all members attending.