Argentine government retains congress; Massa and Macri confirm 2015 presidential ambition
Monday, October 28th 2013 - 05:37 UTC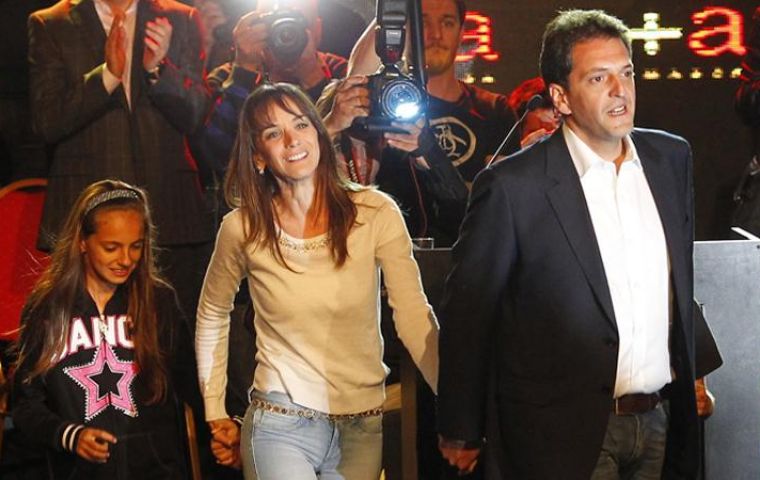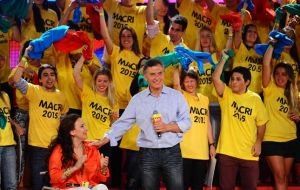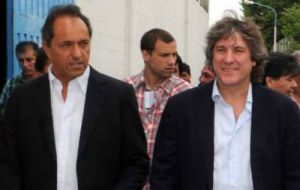 Argentine President Cristina Fernandez's governing bloc held onto control of Congress in Sunday's mid-term elections, but the results also confirmed the emergence of a new group of powerful leaders who with different messages (and non-messages) anticipated on that same night that their target it the presidential chair in 2015.
The most significant, although partly anticipated, was that of a former cabinet chief, Sergio Massa who beat the candidate that Cristina Fernandez hand-picked to lead her slate for Congress, Martin Insaurralde, by a decisive 12-point margin in Buenos Aires province, where 37% of Argentina's voters live.
With 72% of the votes counted nationwide, the governing Front for Victory won 28% of the congressional votes overall, far short of the 54% that Cristina Fernandez carried in her re-election in 2011, but sufficient to be confirmed as the leading minority and enough votes to sustain the current controversial economic policy.
On Sunday half the 257 Lower House seats and a third of the Senate were on dispute.
Cabinet Chief Juan Manuel Abal Medina predicted that when all the votes were in, the FV would gain five seats in the 257-seat Chamber of Deputies and maintain a "comfortable majority" in the 72-member senate. This means the FV remains the only nationwide political force and still holds more seats in Congress than any other bloc.
But the ruling front's losses in Argentina's most populous districts, (Buenos Aires province and capital; Santa Fe, Cordoba and Mendoza) underlines the growing dissatisfaction with the administration and a weakened presidency.
The president's opponents won more than enough seats to block any constitutional changes, ruling out a "re-re-election" in 2015, which anyhow is now completely out of the question given her medical condition, not only surgery for the cranium blood clot but a heart condition which will be addressed once the month long convalescence of no-stress, no-work, no-news is strictly completed.
In effect medical speculation is that the Argentine president will again visit the operation theatre this time for minor surgery and a pacemaker which will also question her capacity to face two years with a long list of economic challenges and the fact her cabinet is deeply divided on how to address them. Furthermore will the president have the sufficient strength to influence the 2015 election hopefuls and sustain the legacy of a decade of Kirchnerism.
Meantime Massa and his Renewal Frong that made a strong call for unity, and an end to confrontation and arrogance in government , will be sworn on December 10 as a member of the Lower House having received the most votes of any politician running on Sunday. And his victory took place in the province of Buenos Aires which is decisive for any presidential hopeful
"We accept our differences, plurality, and as our Pope Francis says, harmony, which is the best way to build our society," Massa said Sunday night in calling on all Argentine politicians to "please listen to the message of the people."
In his speech with a clear presidential projection, despite only being a mayor, Massa anticipated that "as the strongest force in the province of Buenos Aires, we now have the responsibility of crossing the border and reaching to other provinces".
Massa also invited his municipal peers from all Argentina to agree on three basic issues: appropriate nutrition for all Argentine children; improve the quality of education to eliminate the digital gap, and finally the most important and pressing issue: concentrate the battle against insecurity, violence and crime at municipal level, with a mandatory network of cameras and municipal law enforcement.
But it won't be easy because Massa leads as a successful mayor in the wealthy Tigre municipality, where many of Argentina's rich and famous live in gated communities. Now he'll need to make his voice heard while leading the third-largest force in Congress, far less numerous than the 131 or more (out of 257) for the ruling bloc.
The other winners who confirmed their 2015 aspiration include the Mayor of Argentina's capital Buenos Aires Mauricio Macri and his PRO group whose candidates for the Lower House and Senate again ratified his undisputed leadership in the city.
At the victory rally Macri officially announced he was running for the Argentine presidency in 2015, and if there was any doubt, the group of militants and supporters at the stage proudly showed off yellow sweat shirts with the 2015 inscription. However he lacks a national organization in a federal country.
Two other winners at provincial level in important districts with almost 50% of ballot support confirmed they are serious contenders even if they did not make an announcement. One of them is former Vice-president and now undisputed leader in the province of Mendoza, Julio Cobos, and the other Hermes Binner, the big chief in Santa Fe, one of the richest provinces, and seat of Rosario, the country's second largest city and soybean hub for Argentina, Paraguay, Bolivia and southern states of Brazil.
Cobos and Binner are left centre and according to Argentine analysts could organize a front with that orientation to dispute the presidency, but first they must agree and last but not least, they also need a national organization.
Something similar could also be said of Cordoba governor Jose Manuel de la Sota whose congressional candidates managed to win on Sunday despite the central government's efforts to financially suffocate the province by not sending the federally shared revenue checks. Cordoba is the richest province after Buenos Aires and Buenos Aires capital.
And finally there is the current governor from the province of Buenos Aires and with a long political experience, Daniel Scioli. Even when his relation with Cristina Fernandez has been erratic and he is not accepted by the ultra-Kirchnerites, Scioli has given proof of an infinite patience and has long repeated he wants to be a candidate in 2015, 'if Cristina Fernandez does not run for a third consecutive mandate, which triggered the wrath of the fundamentalists.
But his non confrontation attitude, good relations with all political forces and even with the hated Clarin group, was crucial in delivering the province of Buenos Aires for Cristina Fernandez re-election in 2011 and her most impressive 54% ballot.
Besides when Cristina Fernandez health knocked her out of the campaign for Sunday's vote he took over showing his loyalty to the president and the 'Kirchner model' and has been by far the more serious and respectable figure of the regime without Cristina. Compared to Scioli, acting president Amado Boudou is a joke, and a bad one for that.
Furthermore at the government's electoral bunker as the results were made public on Sunday night, with all ministers, advisors, lawmakers, candidates on stage arrogantly celebrating the fact that the Victory Front had remained as the main political force of the country and in Congress, despite the heavy losses, Scioli was the only serious face in the midst of that mass of laughter and singing, with cheer leader Boudou.
"Tonight we are remembering the memory of Nestor Kirchner who died exactly three years ago, the man who transformed Argentina; and also the thirty years of the return of democracy", said Boudou, adding that "it is confirmed we remain as the main force in Congress, and we are just waiting for the president to return to continue building the new Argentina", said Boudou.
"We are the team of President Cristina and very proud of it. And very proud the people continue to support us" said Boudou standing in first line next to a somber Scioli, who clearly was out of tune with the victory-celebration attitude of the Kirchnerites.
Scioli has his own structure in the province of Buenos Aires, a good relation with Massa and has been sufficiently long in politics to have a national reputations in the 24 districts of Argentina. But this time he is on what is obviously the losing side.
However he is not to be discarded: not only has he reiterated his presidential intention and a good reputation, but he has 24 months ahead to October 2015. A similar period that saw the Victory Front support plunge from 54% to 30%. And as several Argentine political analysts pointed out looking into history: governors running for the presidency have only one chance to reach Casa Rosada and that is when their first chance, which leaves out Binner and de la Sota.
The argument goes further and recalls that In previous Argentine midterm elections, 24 months ahead of a presidential ballot nobody was counting with Ricardo Alfonsin as the winner in 1983; Carlos Menem in 1989 or Nestor Kirchner in 2003. So in Argentine politics 24 months is a long time and there could even more surprises, not to say the least when Cristina Fernandez returns to the helm and in what conditions.