Brazilian government trying to establish dialogue with anarchist group "Black Bloc"
Thursday, October 31st 2013 - 17:52 UTC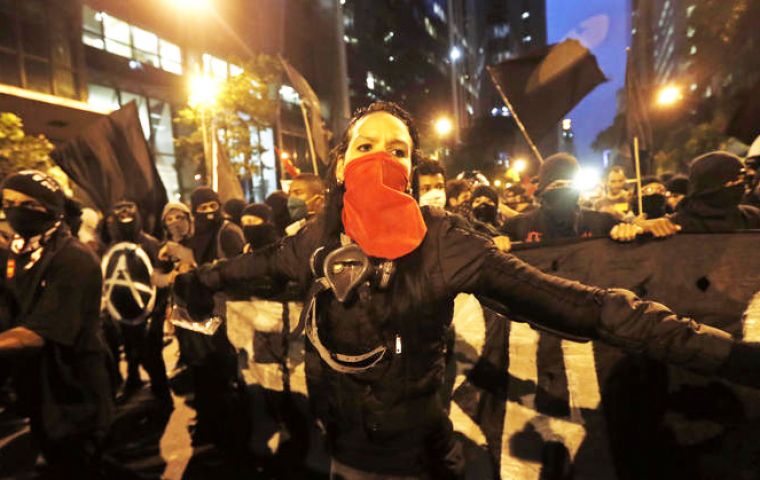 The Brazilian government is trying to establish a dialogue with the anarchist group identifies as "Black Bloc" which has been made responsible by the police for the outbreak of violence and vandalism in the ongoing protests in the country, said the Executive Office Secretary General Gilberto Carvalho.
"The apparent language, I insist apparent of Black bloc is of much destruction, of denial. Now we need to establish some form of bridge. We are looking intensely for that dialogue that can help us find an efficient exit of the current situation", added Carvalho talking to the media at the Planalto Palace.
"With repression we are not going to solve the problem in its roots. One of the major difficulties to establish a dialogue is that the group does not seem to have a spokesperson", admitted the top official.
Likewise Brazil's Minister of Justice Jose Eduardo Cardozo talked with the Public Security secretaries from Rio do Janeiro and Sao Paulo, where most of the protests and violence incidents take place to discuss a joint action against these situations.
Dressed in black, hooded and masked, with a scarf or a T shirt in their heads and moving in blocks, "Black bloc" members have broken into the peaceful marches in Brazil and have shaken public opinion because of the display of destruction and vandalims.
Last Friday one of the groups attacked a police officer during clashes as a peaceful protest demanding better urban transport and services ended in a generalized battle with buses torched and private property destroyed.
Brazil's military police described the aggressors as "criminals disguised as protestors" and arrested 92 people, considering them responsible for all the destruction and torching. The incidents broke out after the police accidentally shot a 17 year old who later died in hospital.
President Dilma Rousseff has demanded answers from her cabinet and described the acts of violence as "anti-democratic barbarism" and called for swift sanctions from the courts.
In related events Rousseff and former president Lula da Silva celebrated this week the tenth anniversary of the 'Bolsa Familia', the social support program which helped lift 36 million Brazilians from extreme poverty.
"Never before so many people climbed out of misery so fast", said Rousseff adding that "it is the major and most effective social inclusion program in the world". The program consists in income support funds which is currently distributed to over 13 million families representing an estimated 50 million people.