Former Paraguayan president ambassador in Argentina to improve 'Mercosur links'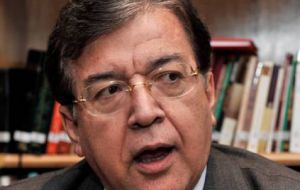 Former Paraguayan president Nicanor Duarte Frutos is scheduled to arrive this week in Buenos Aires where he will be taking the post of ambassador in Argentina one of the most politically important for the land-locked country.
Not only almost a million Paraguayans live in Argentina, but Paraguay's main foreign trade is through the Paraguay and Parana rivers which much depend on the mood from the government in Buenos Aires.
"It was an abandoned embassy because of the problems with Mercosur and our priority is to improve border relations to help the free circulation of people and goods", said ambassador Duarte on taking the oath at the presidential palace in Asuncion.
Duarte Fruto's ambassadorial nomination was unanimously voted last 24 October by the Paraguayan Senate in a closed session.
The previous ambassador in Argentina, Gabriel Enciso Lopez resigned in June 2012 following the removal of Fernando Lugo and his replacement by Federico Franco, to which Mercosur reacted by suspending the country from the bloc.
Likewise the Paraguayan Senate in similar circumstances approved the nominations of Manuel Maria Caceres Cardozo and Eliza Ruiz Diaz as ambassadors before the Brazilian government and the Organization of American States.
Caceres Cardozo is a career diplomat and currently holds the post of Deputy Foreign Minister, and in previous posts represented Paraguay in Buenos Aires and at the OAS in Washington.
Elisa Ruiz Diaz was a member of Paraguay's standing mission before OAS, worked closely to a former president Gonzalez Macchi and was until recently a member of the Electoral Tribunal in representation of the ruling Colorado party.
Another top diplomat has been proposed as ambassador in Uruguay. Enrique Chase Plate is a professor in International Law and represented Paraguay before the OAS under caretaker president Federico Franco. He is tough negotiator and gave the Brazilian representative a rough time when Mercosur also tried (unsuccessfully) to have Paraguay suspended from OAS.