Malvinas: Panama reaffirms support for Argentina; disregards links with Falklands
Monday, November 4th 2013 - 05:38 UTC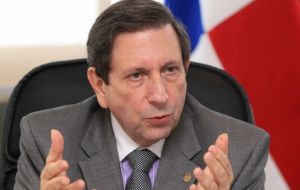 Panama reaffirmed its support for Argentina and its sovereignty claim over the Falklands/Malvinas Islands following on a complaint from Buenos Aires regarding a trip of Panamanian lawmakers to the Islands invited by the local government
A communiqué from the Panamanian Foreign ministry indicates that Foreign minister Fernando Nuñez Fabrega met with Argentina ambassador Ana Cristina Berta de Alberto to talk about the Malvinas situation.
"The Argentine Foreign ministry expressed in a letter dated 18 September that a visit of a group of Panamanian lawmakers to Malvinas, organized by the government of the Islands and the British government, to a certain extent, distorts the traditional position of Panama in support of Argentina", said Panamanian sources.
Minister Nuñez Fabrega not only reiterated Panama's historic position in support of Argentina, but also pointed out that by constitutional mandate, foreign policy "is restricted to the Presidency of the Republic".
Last 25 October the opposition party PRD censured the National Assembly of Panama for having established a Group of Inter-parliamentary friendship "with a similar organization which it claimed belongs to an occupied territory, such is the case of the Malvinas Islands".
In a letter addressed to the Argentine embassy in the City of Panama, the PRD described the attitude of the involved lawmakers as "deplorable and with no consequences" towards the South American country that claims sovereignty over the disputed Islands.
The idea of creating a group of inter-parliamentary friendship was to boost cultural exchanges, diplomatic relations and cooperation among the two parliaments according to the National Assembly.
The document was subscribed by the Panamanian lawmakers that visited the Islands: Dalia Bernal president of the Foreign Relations committee; Yanibel Abrego, both from the ruling party CD; Renaul Dominguez from PRD and advisor Jorge Gante.