Argentine Supreme Court closes ranks in support of leading Judge Lorenzetti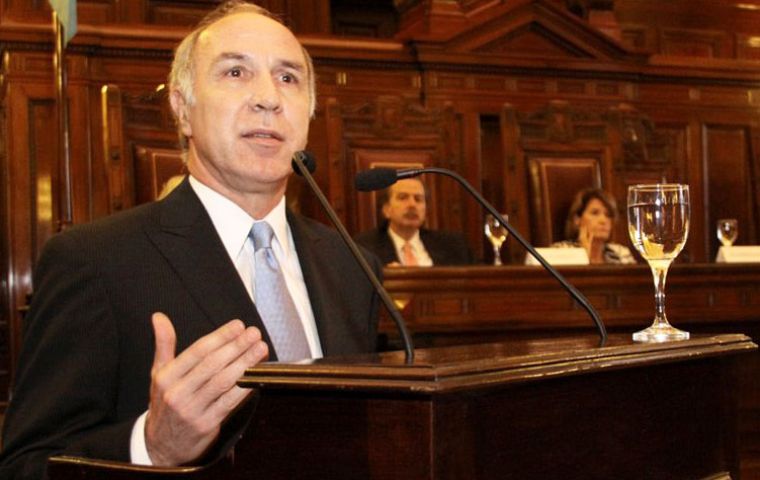 The seven members of Argentina's Supreme Court came out in full support of the body's president Ricardo Lorenzetti who was accused of holding meetings with members of President Cristina Fernandez government and opposition lawmakers demanded he be impeached.
In the Tuesday release backing Judge Lorenzetti, his peers underlined that the meetings with members of other branches of the State "is part of the normal activity of the Republic" and these actions are undertaken by the president of the court who then reports to the whole body and have always been ratified.
The situation was triggered by a recent interview with the local newspaper Perfil, where Lorenzetti admitted he had held private reunions with the Executive branch Legal and Technical Secretary Carlos Zannini but pointed out they did not discuss issues linked with the controversial Broadcast Media Law the Supreme Court declared constitutional last week and that obliges Argentina's biggest media group Clarín to sell off part of its broadcasting licenses.
Other press reports not confirmed by the Judges indicate that Cristina Fernandez spoke to some of the members of the court on the phone, almost a month ago before she went to hospital for heart arrhythmia and finally underwent surgery to drain a cranium blood clot.
The document released by the judicial information bureau explains that the meetings between representatives of the state branches are part of the Republic's normal activity and "don't aim at discussing sentences".
"Democracy needs of a strong debate over state acts, involving judicial rulings which can be criticized by the public opinion and media. Attacks targeting the members of the tribunal every time that a decision of this Court does not satisfy the expectations of a sector of the public opinion, contribute not to the debate neither to the strengthening of institutions", the statement adds defending the "independence" of the Supreme Court.
The release comes a week after the Supreme Court ruled the controversial 2009 media and broadcasting law constitutional, which has been at the heart of the clash between the government of President Cristina Fernandez and the powerful Clarin Group, which on Monday presented a plan to split the conglomerate into six corporations.