Colombia/ FARC announce 'fundamental agreement' on political future of guerrillas
Thursday, November 7th 2013 - 06:55 UTC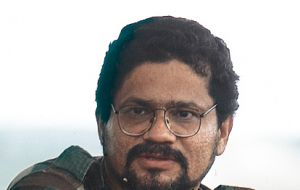 Colombia's government and Marxist FARC rebels reached a "fundamental agreement" on the guerrillas' future in politics, one of the thorniest issues addressed in peace talks in Cuba, according to a joint statement.
The FARC, or Revolutionary Armed Forces of Colombia, has been fighting the government in a jungle and urban conflict that has killed more than 200,000 people in the five decades since it began as a peasant movement seeking land reform.
The partial agreement may pave the way for FARC to enter Colombian politics, which lead government negotiator Humberto de la Calle said would provide a "new democratic opening" that will lead to peace after an end of conflict. "Never again politics and weapons together."
Like other Latin American guerrilla groups, the FARC aspires to become a political party if a peace deal is signed.
"We are completely satisfied with what we have agreed on the point of political participation," FARC leader Ivan Marquez asserted. "We are doing well; in no other peace process have we advanced as much as we have here in Havana. We have taken an important step in the right direction to end the conflict and to achieve a real democracy in Colombia."
Partial accord has been reached on land reform from an agenda that also includes reparation to the FARC's victims, tackling Colombia's drug trade, and an end to fighting.
The two sides are unlikely to reveal many details of the agreement, but Colombians will be looking for clues on how much government negotiators have offered the rebels and how they will pay for their crimes.
Many will be unwilling to accept FARC leaders being given seats in congress - as the rebels have demanded - without first receiving jail terms and then passing through the electoral process.