Westminster addressed Spain's Guardia Civil 'dangerous and provocative' actions in Gibraltar waters
Saturday, November 9th 2013 - 05:49 UTC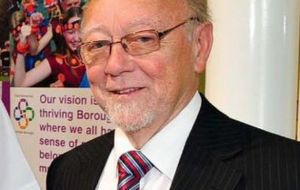 British Labor MP Jim Dobbin has filed an early day motion calling on the House of Commons to condemn the actions of the Spanish Guardia Civil crew that led to "an armed stand-off" with Royal Navy vessels in Gibraltar waters last week.
The motion described how Guardia Civil patrol boat maneuvered in "a dangerous and provocative" manner, causing a collision with a British vessel escorting a Royal Fleet Auxiliary tanker.
It also recognized "the restraint and professionalism of the Royal Navy, Royal Gibraltar Police and Royal Fleet Auxiliary in the face of Spanish aggression." Although the motion refers to the RGP, it was in fact the Gibraltar Defense Police that was present during the incident.
The motion filed by Mr Dobbin, who is the chairman of the Gibraltar all party parliamentary group, also noted that "aggressive activity" at the border had led to delays of up to four hours for "hard-working people" from Gibraltar and Spain.
It finally asked the Commons to express "…concern that Spain, a democratic member of the European Union, is acting in this manner."
In the Westminster system, early day motions are rarely debated in the Commons and are primarily used to draw attention to particular subjects of interest.
The motion filed by Mr Dobbins was backed by four additional MPs, three from the Labor party and one from the Conservatives.
Mr Dobbin had earlier this week asked two questions relating to the incident last week.
Additionally, British Europe Minister David Lidington laid a written ministerial statement in the Commons in which he condemned the Guardia Civil actions and confirmed that Britain had made a formal protest to Spain.