Brazil and Peru seal strong integration and cooperation alliance
Tuesday, November 12th 2013 - 23:54 UTC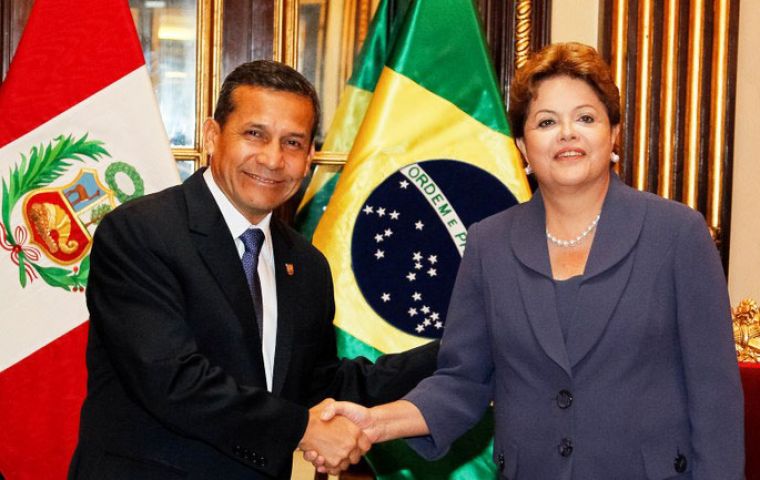 Peruvian President Ollanta Humala and Brazil's Dilma Rousseff agreed on Monday to promote regional integration and trade as they marked the 10th anniversary of the bilateral strategic alliance. Rousseff arrived Monday in Lima on her fourth visit to Peru since Humala took power.
Rousseff called the strategic alliance an "invaluable framework for our relations," one that has produced "a series of bilateral projects implemented with very concrete results for our citizens".
The strategic alliance has a 24-point agenda, among which is the two countries' physical and economic integration through infrastructure projects for roads, electric power and ports.
Among the completed projects, Rousseff acknowledged the "enormous benefits of the Inter-oceanic Highway, which has brought trade, tourism and development to the states of Acre, Rondonia and Mato Grosso in Brazil, and to Arequipa, Cuzco and Madre de Dios in Peru."
Humala said Monday was a momentous day because the strategic relationship with Brazil has been consolidated and accords have been signed that constitute a road map to the future of this association.
Some of the pacts discussed Monday dealt with the production of medicines to fight malaria and tuberculosis, cooperation in the fields of science and technology, and the integration of the two countries' shipbuilding industries, Rousseff said.
Peruvian exports to Brazil rose to 1.17 billion dollars between January and August of this year, while Peru imported 1.49 billion worth of goods from Brazil, according to official figures from Peru.
Rousseff also revealed that she agreed with Humala to create a working group to study building a railway linking the neighboring countries and boosting Internet connectivity.