Bank of England enthusiastic about UK recovery, according to November minutes
Wednesday, November 20th 2013 - 20:43 UTC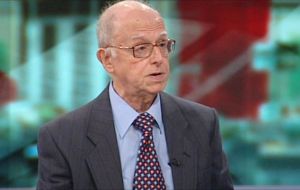 The UK is in a sustained recovery and does not face major inflation risks, Bank of England policymakers have said. Minutes from the Monetary Policy Committee's November meeting showed the nine members all voted to leave interest rates at 0.5%.
The committee also signaled that it was in no rush to raise interest rates and might not do so immediately even after unemployment had fallen to 7%. Last week, the bank said unemployment could fall faster than predicted.
The committee said there were uncertainties over the "durability" of the recovery. It also said there were few signs that expectations of higher inflation were feeding into wage increases.
The Bank of England said: "There could be a case for not raising Bank Rate immediately when the 7% unemployment threshold was reached."
The committee also decided not to add to its monetary stimulus program of quantitative easing (QE), under which it has already made £375bn of bond purchases between March 2009 and October 2012.
Unemployment in the UK stands at 7.6%, according to the Office for National Statistics, while inflation, as measured by the consumer prices index, fell to 2.2% in October.
The Bank of England has said it expects to see growth of 0.9% in the fourth quarter. At the same time, business surveys and housing market indicators have reinforced the picture of improving economic conditions. But the minutes said household spending was still under pressure and the UK could be vulnerable to instability in the Euro-zone.
"The UK economy remained vulnerable to disorderly adjustment in the euro area and some emerging economies," the minutes said.
David Kern, chief economist at the British Chambers of Commerce, said: "Businesses will be pleased with the unanimous decision to keep rates on hold, as well as the reiteration that reaching the 7% unemployment threshold will not automatically trigger a rate increase.
But he added: "The MPC's forecast for unemployment is optimistic, and while we expect growth to strengthen over the next few years, it is unlikely to be as rapid as the MPC expects".