Brazil auctions Rio and Belo Horizonte airports; five international consortia registered
Thursday, November 21st 2013 - 15:14 UTC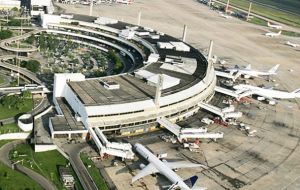 Airports in Rio and Belo Horizonte, two host cities of the 2014 World Cup, are to be privatized at an auction this week, Brazilian civil aviation authorities said this week. Press reports said five consortia, each with at least one foreign partner, are to take part in Friday's auction at the Sao Paulo stock exchange.
A spokesman for the National Civil Aviation Agency would only say that names of the bidders are to be officially released Friday.
Officials said a minimum bid of 4.8 billion Reais (2.1 billion dollars) is required for a 25-year-concession for Rio's Galeao airport, the country's second busiest. A minimum offer of 1.09 billion Reais (490m dollars) is necessary for a 30-year concession for Belo Horizonte's Confins airport. The contracts are set to be signed next March.
Last year, 20-year concessions valued at a total of 14 billion were granted to manage three airports: two in Sao Paulo and one in Brasilia, breaking the monopoly of Infraero, the federal agency that runs more than 70 airports.
Brazil is upgrading its aging and congested airports in preparation for handling tens of thousands of tourists expected for next year's World Cup and the 2016 Rio summer Olympics.
Galeao, which currently handles 17.5 million passengers annually, is projected to receive 60 million at the end of the concession period in 2038. Confins, which handles 10.5 million passengers a year, is projected to handle 43 million by 2043.
President Dilma Rousseff has said that any private entities taking part in the auction will have to include at least one international partner "with experience running an airport handling at least 35 million passengers a year".
And this operator, she added, must have "at least a 25% stake" in the consortium and Infraero is to retain a 49% stake in both airports.
The five consortia reported to be competing are:
Brazil's biggest highway operator CCR in partnership with Germany's Flughafen Munchen, operator of Munich airport, and Switzerland's Flughafen Zurich, operator of Zurich airport.
Brazilian highway concessionaire EcoRodovias and Brazilian pension fund Invepar with Germany's Frankfurt airport operator Fraport.
Brazil's Odebrecht TransPort, the engineering arm of Odebrecht, with Singapore airport operator Changi.
Brazilian conglomerate Queiroz Galvao in partnership with Spain's Ferrovial, which runs London's Heathrow airport.
Construction firm Carioca Engenharia and GP Investimentos, which have teamed up with France's Aeroports de Paris, which operates Paris' Charles de Gaulle airport and Dutch company Schiphol, which manages Amsterdam airport.