Kennedy killed by CIA conspiracy for acting weak with Cuba, claims Maduro
Saturday, November 23rd 2013 - 06:30 UTC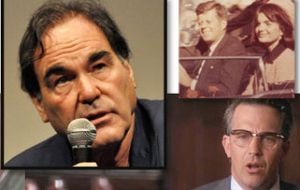 President John F Kennedy was murdered by a CIA conspiracy including groups linked to the anti-Castro and Sicilian mafias because he was 'weak' with Cuba, claimed Venezuelan president Nicolas Maduro who remembered events of 50 years ago in Dallas.
"¿Do you want to know who conspired to kill Kennedy? There is plenty of evidence about it: the CIA, the Pentagon; the Miami mafia, Cubans that live in Miami and work for the CIA, and groups from the Sicilian mafia of that time" underlined Maduro.
The president also mentioned the film by director Olive Stone, "JFK" in which he displays the hypothesis of a conspiracy of several power groups to kill Kennedy. "I'm proposing that next Sunday channel 8 (government managed) shows the 'JFK' film at premium time so everybody can see it".
In 1962 the Kennedy administration had to face the 'missiles crisis' following the discovery in Cuba of nuclear war heads supplied by the Soviet Union, an incident which almost triggered a major apocalyptical conflict between the super powers of the time.
Maduro likes to bash the US government frequently claiming it supports Venezuelan opposition. This despite the fact the US is the main client of Venezuelan oil and the government owned oil company PDVSA has a chain of 6.000 gasoline stations and some refineries in the US.
Relations between the two countries have continued to the strained since the withdrawal of respective ambassadors in 2010. Last September Maduro expelled the US chargé d'affairs and two other diplomats for allegedly encouraging 'de-stabilization actions' from the Venezuelan opposition. Washington reciprocated.