Record wheat crop in Brazil's main producitn state of Rio Grande do Sul
Tuesday, December 10th 2013 - 22:45 UTC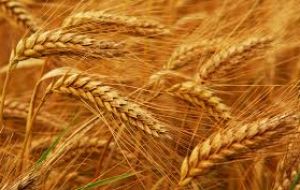 Brazil's most southern state, Rio Grande do Sul is consolidating as the country's main producer of wheat with a record crop from the current harvest of 2.91 million tons, breaking the 2011 record of 2,74 million tons, according to the latest report from Emater, the country's rural extension department.
Rio Grande thus again takes the lead having overtaken neighbouring Parana state, which had a poor crop, with 1.79 million tons of wheat with 98% of the harvest completed, Bad weather had a negative effect for Parana farmers and wheat yields reports Deral, the Parana State rural economy department.
In Rio Grande do Sul despite some problems with climate when the cereal was maturing the yield was also encouraging jumping from 2.620 kilos per hectare to 2.820 kilos per hectare.
"The record crop of wheat in Rio Grande do Sul will mean a reduction in grain imports", said Jose Antoniazzi, head of the state's wheat millers, who added this was very positive for the state since the poor 2012 crop had forced the import 1.2 million tons of wheat.
However with the crops in both states mostly harvested, the next step is finding attractive prices for their production, since it all looks as if the world has an ample supply of wheat.